Faculty and Staff News

Maryville's faculty and staff are experts in their field and are dedicated to making a difference in their professional communities. This digest serves to highlight their accomplishments as authors, speakers, honorees, civic leaders and more.
To suggest items for Faculty & Staff News, email jedwards@maryville.edu.
A poem by Dana Levin, Distinguished Writer-in-Residence, is mentioned in this PBS News Hour story as one of the most powerful poems in an anthology meant to serve as a vehicle for conversation on gun violence and empathy for survivors. The book was co-edited by writer Brian Clements, the husband of a Sandy Hook survivor.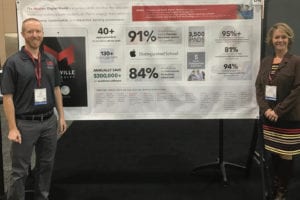 Jen McCluskey, PhD, vice president for student success, and Sam Harris, director of learning technology and support, attended the recent EDUCAUSE conference and did a poster presentation on Maryville's Digital World initiative.
Kelly Mock, EdD, director of academic advising and life coaching, and Maxwell Artis, life coach, presented at the recent NACADA conference. Their presentation explored the integration and success of Maryville's Life Coach program. NACADA is the national academic advising association.
Jennifer Henry, LPC, director of personal counseling, has received the Founder's Award, presented by the Missouri Eating Disorders Association. The Founders Award recognizes leadership, collaboration and community involvement and is awarded to those making a difference in the community through education and awareness of eating disorders.
Charles J. Gulas, PhD, dean of the Walker College of Health Professions, has been selected by the Associated Schools of Allied Health Professions (ASAHP) Board of Directors as an ASAHP Fellow for his leadership and significant contributions to allied health.
Loretta Colvin, APRN-BC, coordinator of the Online Adult-Gerontology Acute Care Nurse Practitioner program in the Catherine McAuley School of Nursing, served as chair of the American Academy of Sleep Medicine's committee tasked with developing educational materials for nurse practitioners and physician assistants. Colvin also spoke at the annual Association of Missouri Nurse Practitioners and the Sleep Professionals of Arkansas. She served as co-faculty for a joint American Association of Nurse Practitioners and American Association of Physician Assistants educational session focusing on the treatment of insomnia.
Michael Kiener, PhD, director of the Rehabilitation Counseling program and professor of rehabilitation counseling, has been elected to a three-year term on the Missouri board for the Association of People Supporting Employment First.