BACHELOR'S IN SPORT BUSINESS MANAGEMENT
BACHELOR'S IN
SPORT BUSINESS MANAGEMENT
RAWLINGS SPORT BUSINESS MANAGEMENT
Turn Your Love of the Game
into a Career.
Turn Your Love of the Game into a Career.
The world of sport is so much more than the games played— marketing, promotions, and sales play vital roles. Maryville University's Rawlings Sport Business Management program can turn a student's passion for sports into a career they will love.
Students will gain an understanding of the sports industry through the lens of business, economics, finance, and communications, all while receiving a strong foundation in business management. Students also have the opportunity to gain hands-on experience through volunteer opportunities and internships with organizations such as Rawlings Sporting Goods, the St. Louis Cardinals, and the Missouri Valley Conference.
Sports Business Management Program

Read Transcript

Jason Williams, Director of the Rawlings Sport Business Management Program: The Rawlings Sport Business Management program is an experiential learning program that immerses you into the sports business industry. The Rawlings Sport Business Management program is important, because we train you in the skills that the industry values, which is the reason why 92% of our graduates have careers in the field of study within six months of graduation. The unique aspect of our program comes from our partnerships, experiential learning teaching methods, and the exposure you will have to the sports business industry. Another unique aspect of our program is our partnership with Stadia Ventures. That offers a concentration in sports entrepreneurship taught by an industry leader, Art Chou. Upon graduation from the Rawlings Sports Business Management program, you will have the skills to work for marketing agencies, pro sports teams, collegiate athletic departments, major brands, as well as product companies. If you believe that the Rawlings Sport Business Management program is a program for you, stop by or email me.

SPORTS MANAGEMENT STUDENT

Read Transcript

CJ Donegan: Hi, I'm CJ Donegan and I'm a third-year Rawlings Sport Business Management major.

Wayne Ngo: My name is Wayne Ngo. I'm a second-year Rawlings Sport Business Management major.

Donegan: As a junior in high school, I was able to do a week, immersive experience with the program and realized what we're doing here is what no other program in the country is by taking our students out and being able to have experiences with the (St. Louis) Cardinals, Blues, even all the way out in KC, in Indianapolis and all the way to London.

Ngo: What they do is they make sure that you intern for at least one internship for credit so it gets you to understand how different sports teams work; their operations, their marketing, ticket sales, financing.

Donegan: The classes in the Rawlings Sport Business Management program are very unique to Maryville. They're very much immersive and experiential learning. We don't have many tests in this program. It's all about going out into the field and doing what you're learning.

Ngo: The professors really want you to graduate and be really successful. They have worked in the sports industry for a very long time.

Donegan: If you're interested in the Rawlings Sport Business Management program at Maryville, feel free to stop by at any time for a campus tour.
ALUMNI TESTIMONIAL

Read Transcript

Kevin Bauer, '16: My name is Kevin Bauer I work at the Scottrade Center, St. Louis Blues and I graduated from Maryville University in December of 2016.

Marc Telander, '11,'14: Marc Telander Rawlings Sporting Goods Bat Product Manager and I graduated 2011 and also 2014 with an MBA.

Bauer: It is unlike anything I have ever been a part of before. I've seen a lot of different students that we have here intern-wise and by far it is a program that sets the pace. It's a leader. I felt that walking out of Maryville in December that I was prepared for the real world and to come into this industry.

Telander: My experience in the Rawlings Sport Business Management program has really shaped my career today. It allowed me to put my hands into multiple facets of different sports business management organizations. It allowed me to come back to Rawlings as a graduate intern and basically allowed me to start the career as an intern and build to where I am in my professional career today.
WHY MARYVILLE

Read Transcript

• 1 of 3 nationally ranked universities in St. Louis
• 2,400 undergraduate students
• Students from 50 states and 60 countries
• 97% career placement rate
• Mentorship via your life coach
• Traditional full-time undergraduate students receive free iPad Pro
• Over $53 million in scholarships
• 100+ student organizations
• 1,700+ events every year
THE RAWLINGS PRACTICAL EXPERIENCE PROGRAM
RAWLINGS CEO

Read Transcript

Michael Zlaket, President/CEO, Rawlings Sporting Goods Co., Inc.: Generally speaking, when students come out of a sports business program, they're educated. A lot of them have a little bit of experience, not all of them are quite ready to go as fast as others. And what I've found from the students at the Maryville program, is they have a lot of practical experience. A lot of them have done internships here, with Rawlings, and they're thinking about their career from the time they get into the program. So, of course they learn the foundational things that are necessary to get their degree, but they also have a very good sense of what it takes to succeed in the workforce. What impresses me the most about the Maryville program is the practicality and the common sense. The staff is very thoughtful in terms of not just educating their students, but what their students are gonna be when they're out. The staff cares about the track record of where their students land and looking back several years later and seeing what they've done for their career. And I like that, because their work isn't done when they've finished educating them. Their work is done when their students become successful in the sports world. I think the future of the partnership is very bright. I hope it continues for a very long time. It has been a pleasure having the school, literally, in our back yard. We get a lot of research from the students. We get very practical insights. They're hitting the ground running. They're actually doing work while they're getting educated. So it works for both of us. They have a lot more experience by the time they graduate, and we get work along the way that makes a big difference for us. Going forward, I hope that we can not only continue it, but expand upon it. The University's going in the right direction, and the program is getting bigger and more prestigious, and of course I want to be a part of it. It's a great value for us.
Rawlings has been a leader in the sporting goods and apparel industry since 1887 and their world headquarters are located adjacent to the Maryville University campus. Each year Rawlings and the Maryville Rawlings Sport Business Management faculty select worthy students to participate in the Rawlings Practical Experience program.
Students in the program learn every aspect of Rawlings' business operations and receive 12 credit hours toward graduation. The program is highly competitive and requires a full year commitment.
PROJECT-BASED LEARNING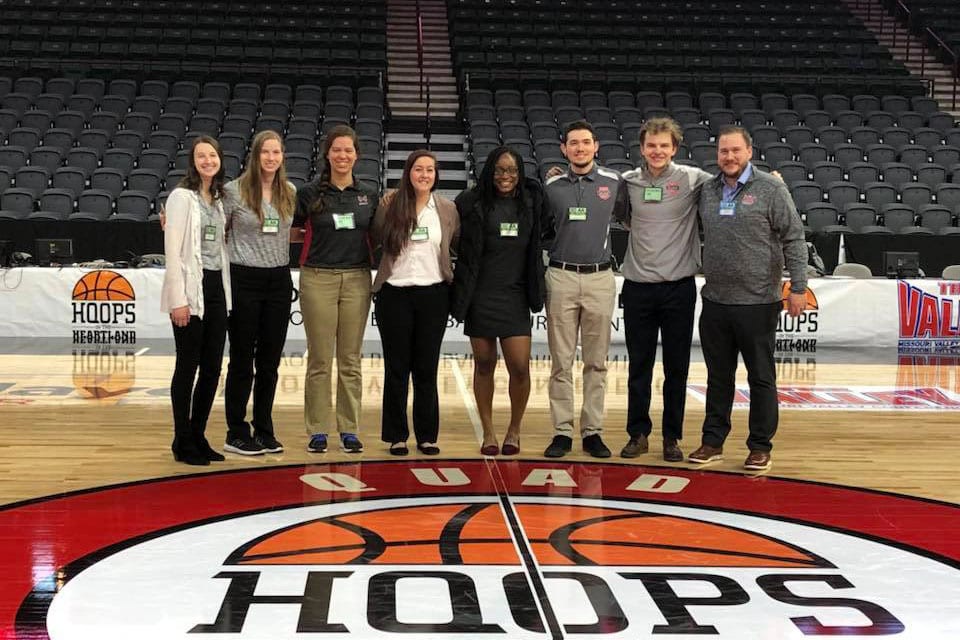 Students learn through a combination of unique classroom experiences, volunteer and study abroad opportunities, and a required sports-oriented internship.
PROFESSIONAL PARTNERSHIPS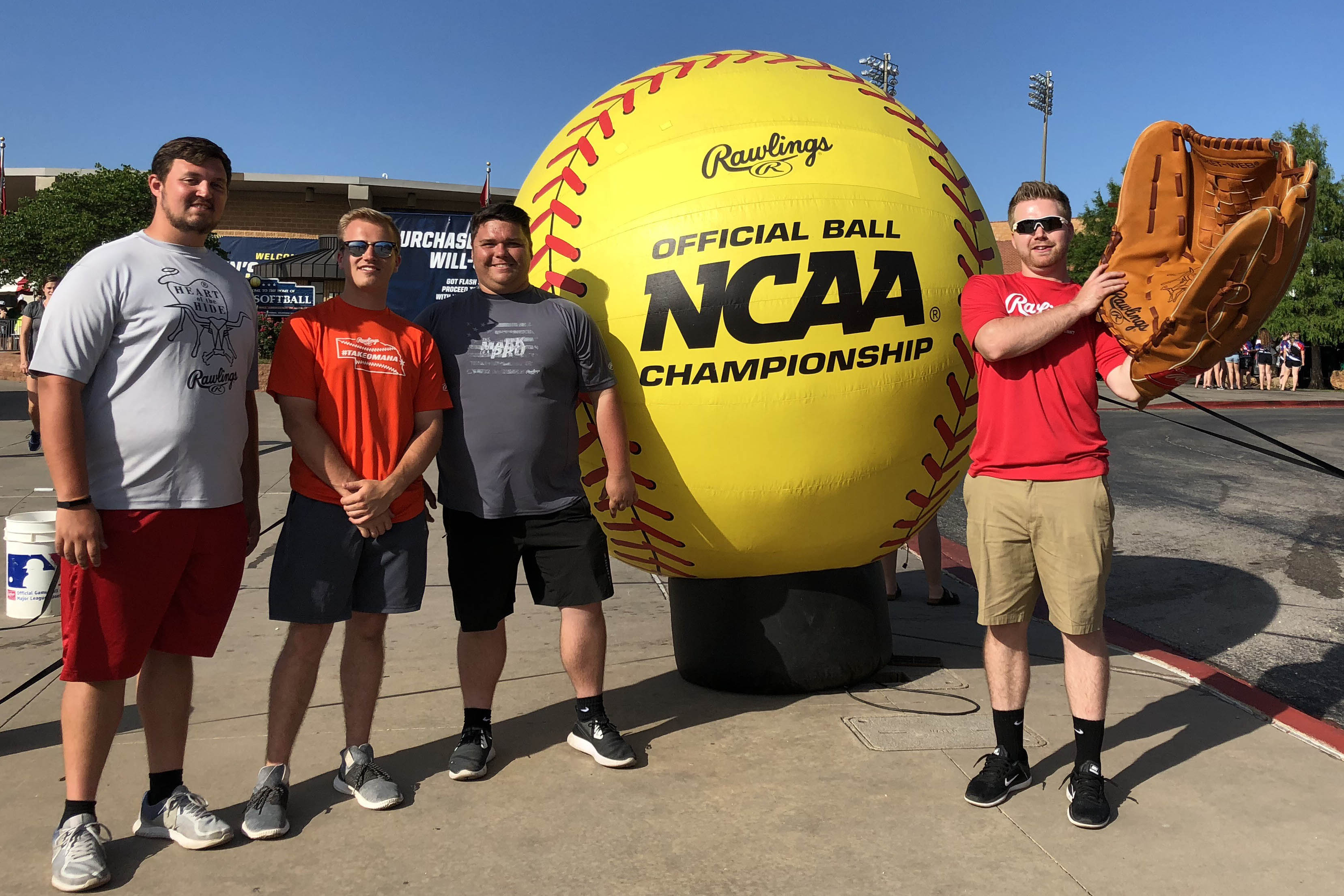 The Rawlings Sport Business Management program has developed relationships with sport business organizations in the St. Louis area and across the country. Sports management degree majors have worked for companies such as:
• St. Louis Cardinals
• St. Louis Blues
• Missouri Valley Conference
• Coca-Cola
• PGA
FEATURED
FACULTY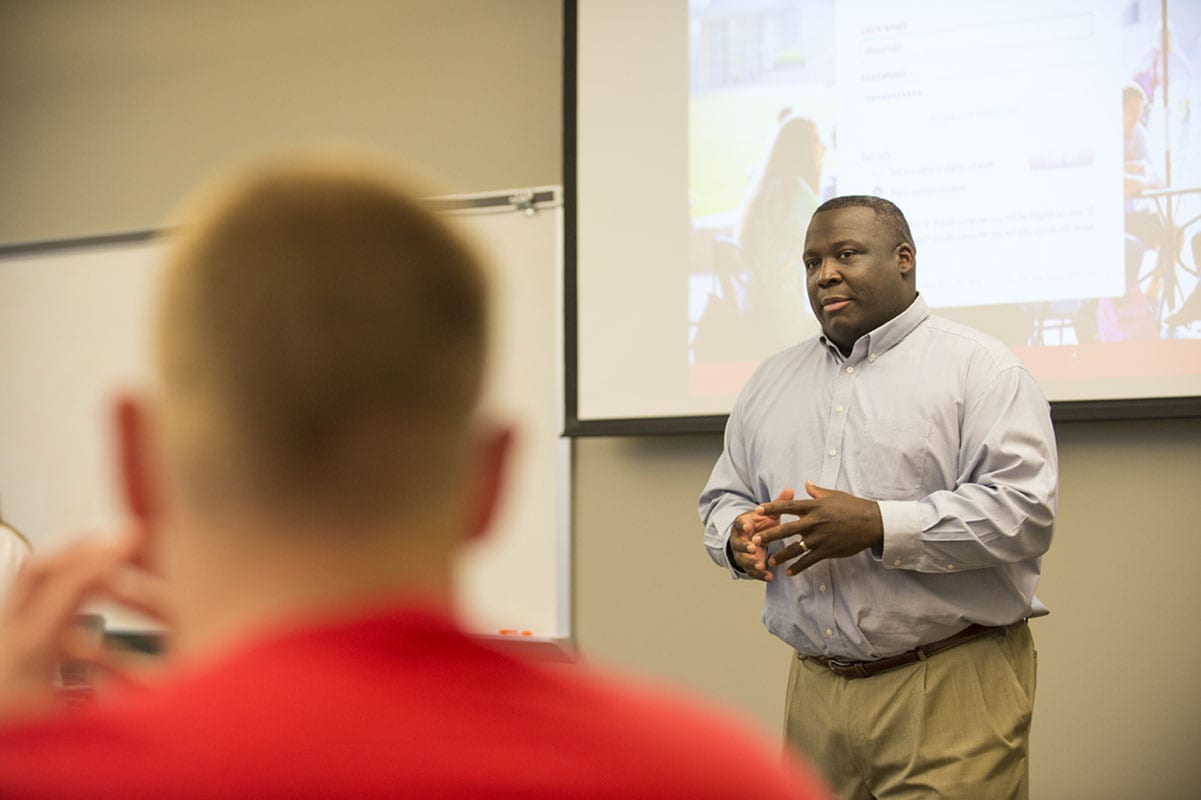 Jason Williams, EdD, is a recipient of the ACBSP Teaching Excellence Award. The Accreditation Council for Business Schools and Programs presents the award to outstanding individuals who exemplify teaching excellence in the classroom.
SPORTS MANAGEMENT STUDENT
ONLINE RAWLINGS SPORT BUSINESS MANAGEMENT PROGRAM
WHAT SPORT BUSINESS MANAGEMENT PROFESSIONALS ARE SAYING
"Our Missouri Valley Conference staff has been extremely fortunate to have an association with the Rawlings Sport Business Management Program at Maryville University. During our years of staging our men's and women's MVC Basketball Tournaments in St. Louis, we've benefited from having program interns work with us in many areas of event promotion and administration. The students have been enthusiastic, hard-working, and eager to gain experience and to make a difference."
"The Sports Business Management Program at Maryville University has shown a commitment to the pursuit of education in the business of sports and a desire to apply lessons learned to the front office. If I'm in need of a skilled candidate, one of my first calls is to program director, Jason Williams at Maryville University."
THE BIG PICTURE
The sports market in North America is expected to be worth an estimated $73.5 billion by the year 2019, according to Forbes magazine. U.S. Bureau of Labor Statistics data shows that sport management job opportunities are growing faster than average with an increase in careers for those who have a sports management degree.
SALARY
TOP 10%
$100,000 MEDIAN
$51,000
JOB GROWTH
10%
ESTIMATED
through 2026
23,800 NEW JOBS THROUGH 2026
CAREERS IN SPORTS BUSINESS MANAGEMENT
Advertising/Promotions/Marketing
*Data on this page provided by the Bureau of Labor Statistics.
*Data on this page provided by the Bureau of Labor Statistics.