Rawlings Sport Business Management - What Sport Business Professionals are Saying
---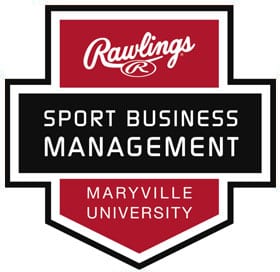 The Rawlings Sport Business Management students have the opportunity to volunteer, intern and obtain permanent positions with a variety of sports organizations. The professionalism students exhibit and the quality of work they produce has professionals raving about the high caliber of students being trained for careers in the sports industry.
"The Sports Business Management Program at Maryville University has shown a commitment to the pursuit of education in the business of sports and a desire to apply lessons learned to the front office. If I'm in need of a skilled candidate, one of my first calls is to Program Director and Assistant Professor, Jason Williams at Maryville University." Rob Fasoldt, Director Ticket Sales and Services St. Louis Cardinals
"Our Missouri Valley Conference staff has been extremely fortunate to have an association with the Rawlings Sport Business Management Program at Maryville University. During our years of staging our men's and women's MVC Basketball Tournaments in St. Louis, we've benefited from having program interns work with us in many areas of event promotion and administration. The students have been enthusiastic, hard-working, and eager to gain experience and to make a difference. They have come to us well-prepared and focused on contributing in any way they can. I have genuine respect and admiration for Maryville University and for their Sport Business Management Program as it prepares young men and women to step into the sports industry and provides the leadership to open doors of opportunity for their graduates." Doug Elgin, Commissioner Missouri Valley Conference
"As an expansion franchise having interns that can contribute immediately to our building of the franchise is vital. All of the students that have been with Saint Louis FC have been able to add to our team right away and it is obvious to see that they have been well prepared in their experiences with the Rawlings Sport Business Management program at Maryville."- Jeremy Alumbaugh, General Manager, Saint Louis FC
"These students impress me as some of the most inquisitive, earnest and ethically advanced I have encountered. Their desire to learn the business of sports the right way makes them candidates I'd want to hire." Rob Cornilles, President and CEO, Game Face Inc.
"Maryville University has taken an exciting step in their curricula by including sports business management. The pro teams in town and now my organization, the St. Louis Sports Hall of Fame, has taken advantage of integrating students into the "live" action of everyday problems and solutions in sports We have gone so far as to appoint a new graduate to a highly visible very important program as head administrator. She is in charge of developing, advertising, and promoting and communicating our product to our members as they join the Hall of Fame. This is a very valuable learning experience and we, the business, have gained a new and talented employee who we can train to do the job. Thank you, Maryville University, for offering a program to educate interested students in the real business of sports." Greg Marecek, President St. Louis Sports Hall of Fame
"Our experience with the Sport Business Management internship program at Maryville University has proven to be valuable for both the student intern and our athletic program. The on-site learning opportunity allows students to enhance the education received through the classroom. In addition, the contributions and projects completed by the students have greatly benefited our department." Clayton Hamilton, University of Arkansas Associate Athletic Director – Chief Financial Officer
"We are excited to offer opportunities for Maryville University Sport Business Management students and provide them with hands on experiences in the Collegiate Marketing environment." Jason Dennard, Director of Marketing Florida State University; Seminole ISP Sports
"We are excited about the opportunity to provide on-the-job-training and provide students a memorable experience outside the classroom. Our experience with the students from Maryville has been very positive. We find that the students are well rounded, well educated, professional and mature enough to handle the tasks we have set before them." Mark Salmans, Chief Operations Officer Texas vs. Nation Bowl
"Under the direction of Professor Jason Williams, the Maryville University sport business management program is on the fast-track to become one of the finest programs in the country. In the short amount of time, Professor Williams has built developed a curriculum that is at the cutting edge of the sports industry, along with developing real life experiences through internships and special event opportunities. Students have also been exposed to outstanding guest lecturers that are at the top of their fields. Students will graduate well prepared to face the challenges in the sports industry." TJ Shelton, Associate Athletic Director, The Ohio State University
"The students in the Maryville University Sport Business Management program are receiving a first-class education not only through classroom instruction, but also through real world experience. The faculty assists the students with actively seeking and obtaining internships and volunteer experiences at some of the biggest sporting events and sports organizations. The Maryville students are thoroughly prepared for the business side of sports today and will be leaders in the evolution of this business in the future." Byron Hatch, Assistant Athletic Director for Business Operations, University of Arkansas
"The Maryville University Sports Business Management Program does an excellent job of tapping into a wide-variety of resources throughout the industry that offer their students wonderful opportunities to grow and develop." Scott Stevens, Marketing Partnership Activation Manager, Coca-Cola