Office of Service & Spiritual Life
Promoting Spiritual Awareness...Developing Social Responsibility...Inspiring Community Service
---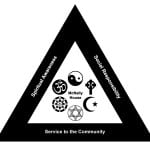 The Office of Service and Spiritual Life in Maryville supports students, faculty and staff of all faiths. Through co-curricular opportunities that support Maryville's desire to educate the whole person, we assist them with their spiritual and personal growth. Several campus spiritual student organizations, as well as the community outreach efforts of local ministries, work with our office to support the spiritual needs of our students.
Through the collaboration of these groups and the Office of Service and Spiritual Life, we have organized numerous activities such as retreats, reflections, conferences, scripture studies, service projects, guest speakers and forums on a variety of topics.
In addition, we work with other student groups (Community Service Club, etc.), faculty and staff to create awareness of local, national and global social issues. We promote social responsibility and support, and seek out opportunities for community service in the greater St. Louis community and beyond. And we reinforce the learning from these experiences through reflection and discussion.
Stop by anytime to visit us at McNally House. Students come here for classes and meetings, to study, or just for a quiet place to reflect, meditate or pray.
Office hours:
Monday through Friday, 8 a.m. to 5 p.m.
Stephen M. DiSalvo, Director
314.529.9521 or by email sdisalvo@maryville.edu.