About Us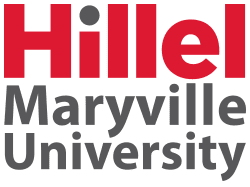 Maryville University Hillel is proud to be one of over 550 Hillel organizations across the globe that provide opportunities for college communities to engage with and experience Jewish culture as a medium to lead, learn and grow. Maryville Hillel was founded in June 2015 and is the result of years of a thriving Jewish Student Union and a long-standing community of faculty, staff and students. A grassroots Jewish community on campus, coupled with a generous grant from the Kranzberg Family Foundation, provided the first staffed Jewish Programming Facilitator role on campus in 2012. Consistent growth and a dedicated community led Maryville University to create a full-time staff role when Maryville Hillel was established in 2015. Maryville Hillel is proud to be comprised of active student leaders and friends, a highly supportive campus and St. Louis community, a thriving and growing Jewish community, dedicated faculty and staff and a committed group of Hillel Advisory Council volunteers. We are a warm and open pluralistic community, welcoming those from the entire spectrum of Jewish life, including friends of different faiths and backgrounds. ALL are ALWAYS welcome at Maryville Hillel activities!
Maryville University is proud to be located in the heart of the Jewish community, in west St. Louis County. We are located across the street from the first Jewish congregation to be established in St. Louis (in 1837!) and the oldest congregation west of the Mississippi River. We are within 5 minutes of 5 inviting congregational communities, including Reform, Conservative, Traditional/Reconstructionist and Orthodox traditions. Our students enjoy warm personal relationships with many congregational communities, Cantors and Rabbis, and find a home away from home by volunteering, teaching religious and Hebrew school, participating in programs and services and being included in members' homes for holiday meals and celebrations.
We are also proud to be located near St. Louis' two JCC locations: one 15 minutes to the east of campus in Creve Coeur (Staenberg Family Complex) and one 10 minutes to the west on campus in Chesterfield (Fox Building).
650 Maryville University Drive
St. Louis, MO 63141
314.529.9437