The eSports Club at Maryville University provides a competitive, yet friendly online gaming environment. Players hone their skills with the help of some of the best players in the country.
Players on competitive rosters receive assistance in preparation for the professional leagues from Maryville staff, who have a wealth of LCS, ESEA/CEVO and MLG experience.
News
Maryville eSports Wins Another Championship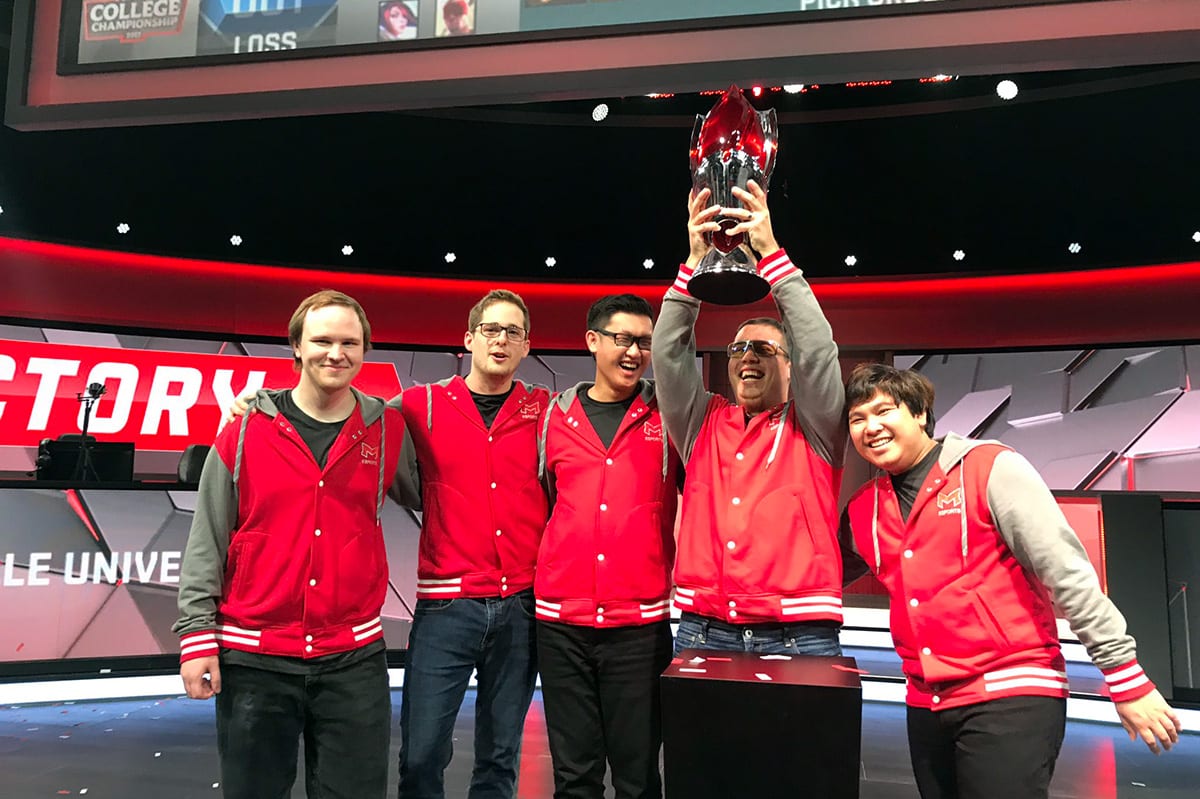 Maryville University's eSports club continues to fill the rafters with championship banners after winning the League of Legends Collegiate Championships.
The Maryville eSports team claimed its second national title and became the first American university to win the Collegiate League of Legends title with a hard-fought 3-1 victory over University of Toronto in the finals in Los Angeles.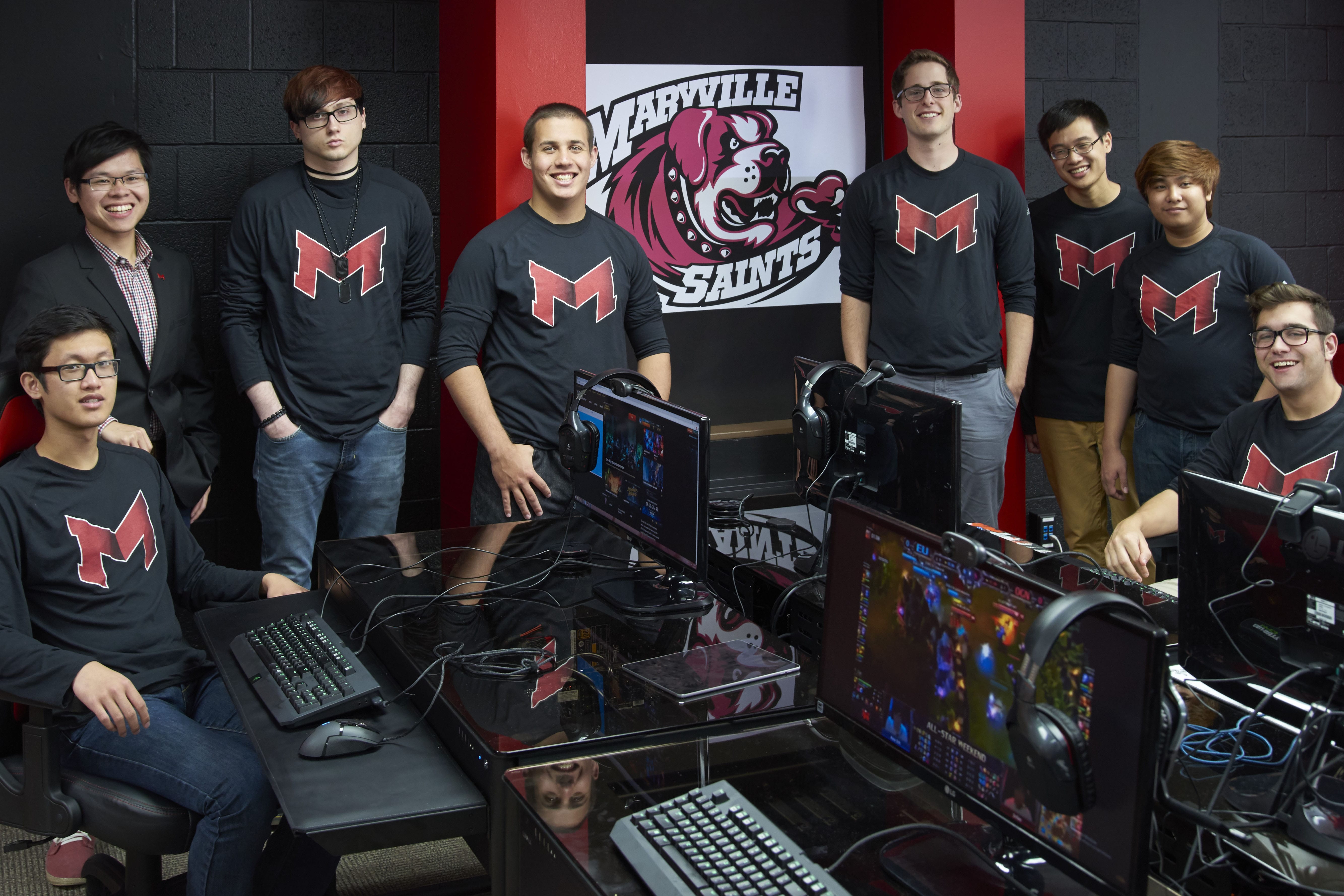 Maryville eSports Wins League of Legends National Championship
In its first season in the C-Star League Division 1, Maryville University's eSports club team captured the League of Legends championship at Dreamhack, held in Austin, Texas, considered the biggest tournament in North America history. Maryville ended the season undefeated, with a 40-0 record.
eSports Teams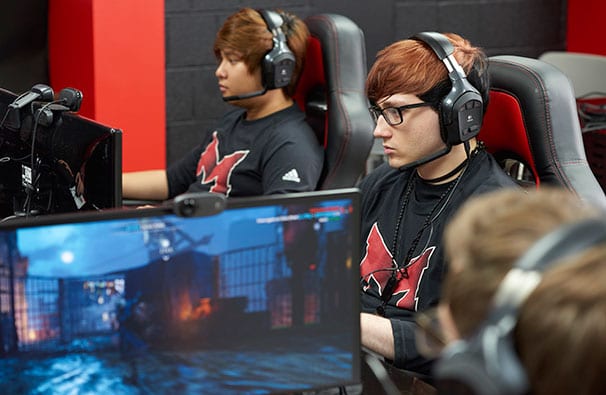 Teams: Each game features one varsity team, and JV teams. There is no cap on the number of teams, but 10-12 teams for each game are anticipated.
University Participation Awards: eSport participants are eligible for a $2,000 participation award.
A fast-paced, competitive online game that blends the speed and intensity of an RTS with RPG elements. Two teams of powerful champions, each with a unique design and play style, battle head-to-head across multiple battlefields and game modes.
Similar to League of Legends, with an emphasis on team play. Heroes of the Storm revolves around online 5-versus-5 matches.
Analysts/Coaches:
Daniel Clerke: Dan "clerkie" Clerke started his career in eSports as a competitive Call of Duty 4 player. From there he has gone on to found and run one of the top organizations in North America in EnemyGG. He has experience in fielding professional teams in League of Legends (LCS), Counter Strike: Global Offensive (ESEA/CEVO), Smite (SPL), Halo (HCS), Gears of War (ESL Pro), and Super Smash Brothers (APEX/EVO). Dan specializes in both the team dynamic of a successful team, as well as the growth of the individual.
Kenneth Lam: Kenneth Lam is a student at Maryville University. His first MOBA game was modified game mode of Warcraft. Then, he played World of Warcraft (WoW) and Hearthstone. He works to improve overall performance of the team, and address team needs
Practice Environment
Competitive teams meet and practice three times per week. Practices are scrims against collegiate and pro teams. When not practicing, help with homework or a casual gaming environment is available.
Dedicated Space for Competition
Competitive teams practice in a state-of-the-art training facility, with the absolute highest Internet speeds available. Players compete on the highest FPS and lowest possible ping.
Future Online Gaming Opportunities
The eSports Club will continue to expand its roster of games. Maryville University hopes to pioneer new initiatives within collegiate eSports, playing our part in shaping the future of the industry as a whole.
Participation
For more information about Maryville's eSports Club, please contact Jarrett Fleming: jfleming2@maryville.edu, or submit an online request.