PRE-ATHLETIC
TRAINING
PRE-ATHLETIC
TRAINING
Tools to Train
and Heal the Next Generation of Athletes
Tools to Train and Heal the Next Generation of Athletes
Athletic trainers guide athletes through their training programs and help them recover from injury.
Becoming an athletic trainer requires more than just experience with training and exercise. Maryville University can prepare you for graduate studies in post-graduate healthcare programs, including athletic training programs. If you're considering athletic training jobs, you will be interested in Maryville's program in Athletic Training and its pre-graduate track.
PRE-ATHLETIC TRAINING PROGRAM
PROJECT-BASED
LEARNING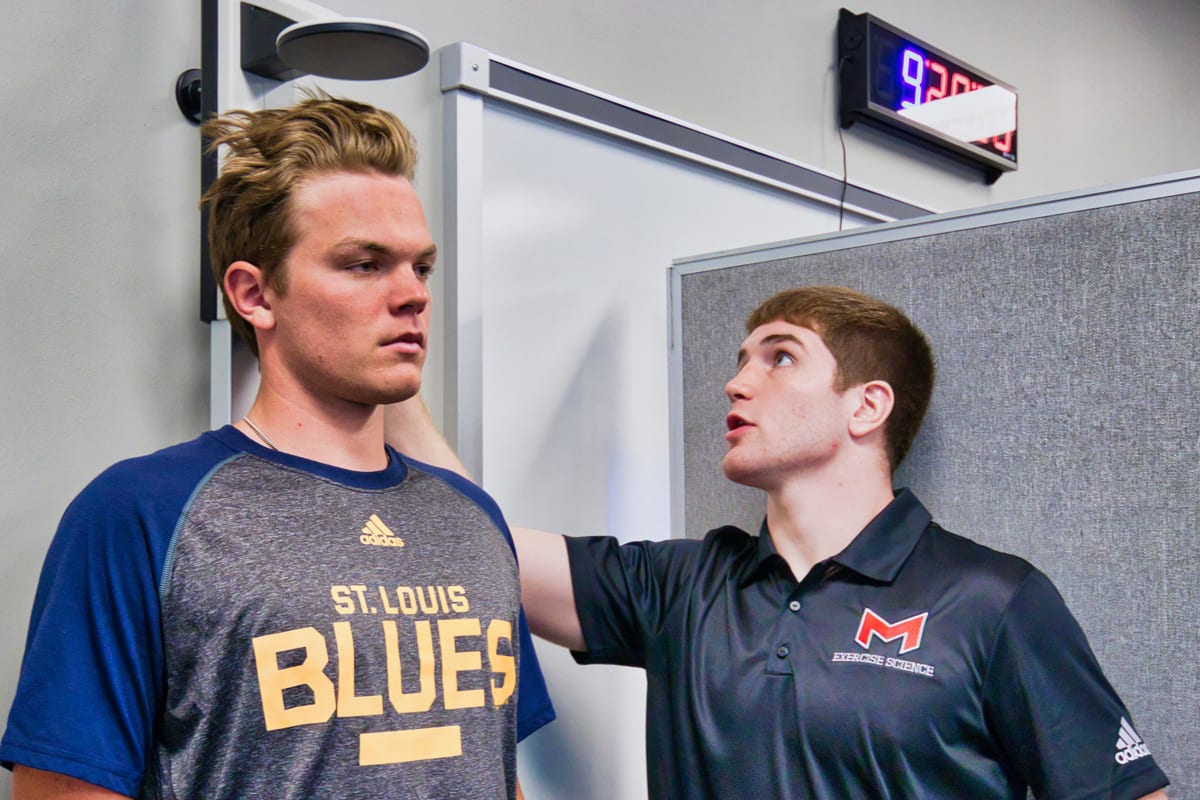 In Maryville's specialized Human Performance Lab, the St. Louis Blues NHL hockey team assesses the fitness of draftees. Students in the pre-athletic trainer program assist in the lab.
PROFESSIONAL
PARTNERSHIPS
Throughout Maryville's Pre-Athletic program, you'll be well-prepared for your future medical training. Our program collaborates with companies and organizations in the St. Louis region, including:
• EXOS
• St. Louis Blues
• High school athletic teams
FEATURED
FACULTY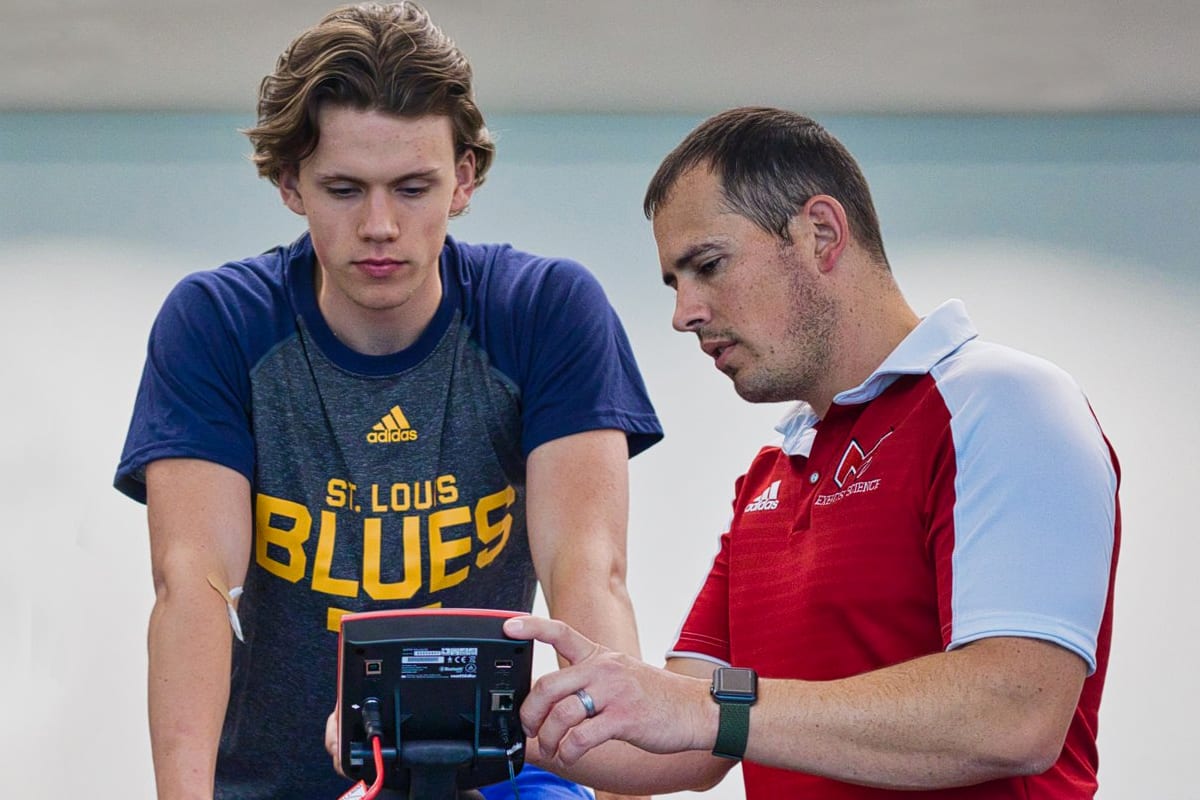 Victor Kizer, director of Maryville's exercise science program, is an expert in the field of athletic training and a faculty mentor focused on helping students reach their goals. Kizer develops Maryville partnerships with organizations such as St. Louis Blues to provide experiential learning opportunities for students in athletic training.
THE BIG PICTURE
Demand for athletic trainers is expected to increase as more people become active—and more become aware of the effects of sports- and exercise-related injuries. The U.S. Bureau of Labor Statistics predicts that the need for athletic trainers at all levels will grow 21% on average through the year 2024. Most of these jobs will require professional certification and some amount of post-graduate education.
SALARY
TOP 10%
$70,750 MEDIAN
$47,510
JOB GROWTH
23%
ESTIMATED
through 2026
6,300 NEW JOBS THROUGH 2026
LARGEST EMPLOYERS
in this field:
38
%
EDUCATIONAL SERVICES
*Data on this page provided by the Bureau of Labor Statistics.
*Data on this page provided by the Bureau of Labor Statistics.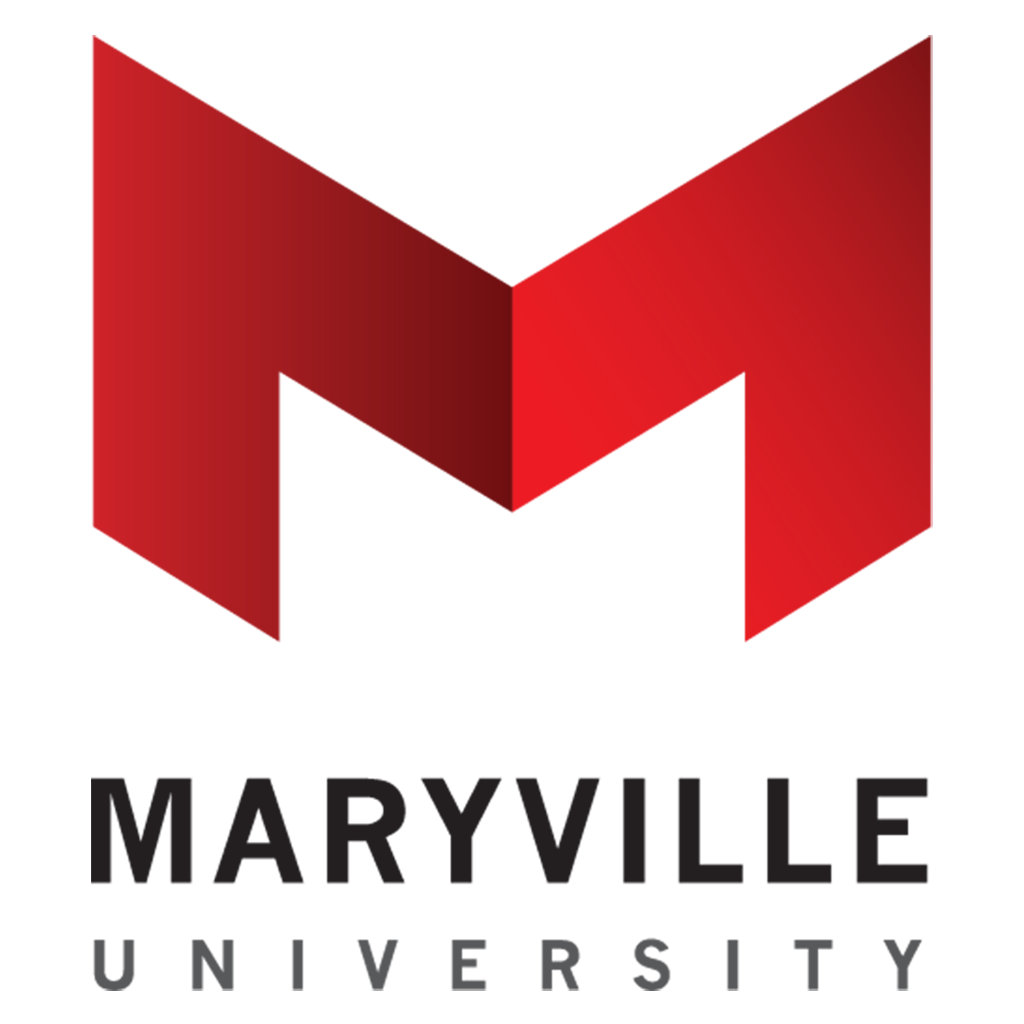 If you have a passion for helping athletes perform their best and recover from injury, explore
Maryville University's Pre-Athletic Training program
.
REQUEST INFORMATION