Hilltop Apartments
---
As a Maryville upperclassman, you want the convenience that living on campus provides, but you also crave the independent living experience. You can do both! Maryville University's Hilltop Apartments are located on the far north end of campus. The five apartment buildings house a total of 250 students. Each building has 15 units and accommodates 50 students.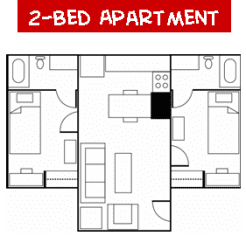 Ten of the units feature four bedrooms and two bathrooms; the remaining five units have two bedrooms and two bathrooms.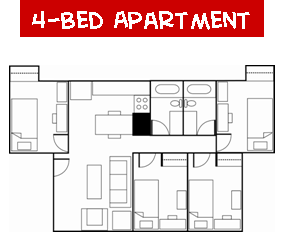 The apartments are fully-furnished with bedroom and living room furniture. Kitchen appliances include a garbage disposal, dishwasher, stove/oven, and a built-in microwave. Free laundry service is available on the lower level of each building. Every apartment has a private backyard patio equipped with a picnic table and grill.
Resident Assistants
Each floor, wing or apartment is staffed by a Resident Assistant (RA). The RA's are students that have been selected and trained prior to the beginning of each academic year. Since the RA's reside in an assigned living area, they have the opportunity to get to know their residents and provide on-going support. To assist with issues after the Residential Life Office is closed (such as lockouts, emergency maintenance needs, etc.) we have Resident Assistants and a professional staff member on-call in the evening, weekends and over the break periods.