Student Highlights
---
A Word From Our Students
Our alumni had this to say about the program:
"My favorite class in the communication program had to be Maryville Pawprint. I thought I would only learn how to write for a newspaper but I learned much more including how to create a podcast. I felt like a real backpack journalist." — Andy Painter
"In my time at the communication program at Maryville University, I learned to have an open mind and I realized that the communication is a global industry and what I was gaining through my coursework at Maryville allowed me to consider many different professional roles after graduation."
"Though I only spent a year at Maryville (because of transferring here senior year), I gained a lifetime of memories and friends that I will cherish forever."
---
Recent Senior Online Portfolio
Research Presentations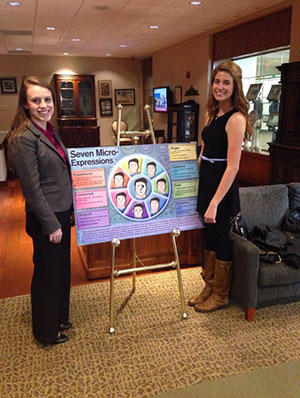 Ryan Cockerham, Victoria Hunt and Emerald Heembrock presented a poster on micro expressions in the 2014 Undergraduate Research Symposium.
Gabriel Stephens was accepted into the Communication Doctoral Program at the University of Florida for the Fall 2014 semester. During his master's degree at Maryville, Gabriel assisted with research for Dr. Carver, Dr. Dohrman and Dr. York.
Internship Highlights
We expect that most of our graduates will have 2-3 internships by the time they leave our program. Every student must complete one internship for credit (more details), but you can do up to six hours of credit towards your academic program. Contact Dr. Rebecca Dohrman, Internship Coordinator for the Communication Program and Undergraduate Program Director at RLDohrman@maryville.edu for more information.
Potential Careers
What can I do with an undergraduate degree in Communication? Is this a question you wonder about? The opportunities with a degree in Communication are plenty. Our program manages a Communication Blog that lists potential career opportunities, where our recent graduates are now employed, and examples of student E-portfolios they have created during our program.