Spirit of Maryville 2020: Rosalyn Manahan
---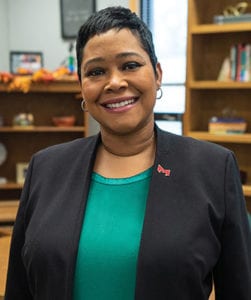 When Rosalyn Manahan, EdD, was a teenager growing up in a troubled home, her Pattonville High School principal took a special interest in her. Now, as assistant principal at her high school alma mater, Manahan is following in her mentor's footsteps by helping students set and achieve academic and personal goals.
For her efforts, Manahan was honored as a distinguished leader in the Delux Power 100 Awards and received a Beyond the Best Award from StreetScape Magazine. She is active with Maryville's National Leadership Council through which she supports numerous campus organizations. Her work is completed in gratitude for the support she received as a student in Maryville's Doctor of Education program.
Manahan keeps up with the individuals she's mentored long after their high school graduations. Now that many are adults, some with families of their own, she's gratified to see them achieving their goals and helping others: feeding the homeless, coaching sports teams and being strong parents to their own children. "It's pretty amazing to see that life comes full circle," she said.