Spirit of Maryville 2020: Alison Tompkins Cole
---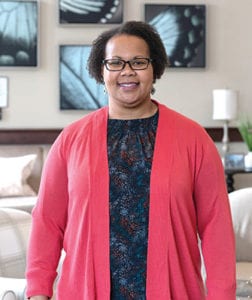 Infusing joy into a person's final days is a passion for Alison Tompkins Cole, MT-BC. A graduate of Maryville's Music Therapy program, she works with patients and families of BJC Hospice and Evelyn's House hospice facility to foster connections through music while also relieving patients' pain and anxiety.
Cole's work may begin by matching the rhythm of her guitar with one patient's anxious breathing, gradually lulling her into a peaceful slumber. A more alert patient may request a song. In one instance, two daughters joined their dying mother to sing a rendition of "Amen," using drums and sandwiching the words, "We love you, Mama" between repeats of the chorus.
Cole recently instituted the Heartbeat Project, a program in which a patient's recorded heartbeat becomes part of a song their family can cherish after they're gone. She feels fortunate that she spends her professional life in close communion with families at such pivotal moments. "I love helping people and I love music — and I can't believe I get paid to do this," she said.