Maryville University and The Society of the Sacred Heart:
A Continuing Tradition
Celebrating the First 100 Years
Maryville University was created out of the Society of the Sacred Heart's deep commitment to service, education and faith, and the indomitable spirit and courage of one of the order's first and greatest pioneers, Rose Philippine Duchesne.
The Religious of the Sacred Heart deliberately and lovingly guided the growth and development of Maryville for 100 years with a progressive series of decisions and bold moves that proved to be profoundly effective. As a result, Maryville evolved from a small academy in the Dutchtown neighborhood of South St. Louis to an innovative and robust institution of higher education in West St. Louis County with students from around the country and indeed around the world.
Saint Madeleine Sophie Barat and "The Heart of an Educator"
Established in post-revolutionary France by Saint Madeleine Sophie Barat, the Society viewed as its purpose "to make known the love of God revealed in the Heart of Christ" (hence the motto, "Cor unum et anima una in Corde Jesu"— One Heart and One Mind in the Heart of Jesus).
Education has always had a special place in the mission of the Society. Saint Madeleine Sophie believed that, "Present day society will be saved by education; other means are almost useless." Her hope was that the Society would help restore Christian life in France by educating young women in both the rich and poor economic classes.
Saint Madeleine Sophie emphasized two abiding goals:
To reveal to the world a God who loves us.
To educate children to be a source of transformation in their world.
The Religious of the Sacred Heart of Jesus (in French, Religieuses du Sacré Cœur de Jésus, or RSCJ) make a vow of education which goes beyond the typical three vows of poverty, chastity and obedience made by most religious orders. The fourth vow of education does not simply refer to teaching, it implores each individual to have the "heart of an educator" in order to draw from every person his or her God-given gifts and talents so that "They may discover the significance of their lives, devote themselves to others and help transform the world."
Stressing that "The main goal of education is not the mere imparting of knowledge, but the development of the individual," Saint Madeleine Sophie established an educational philosophy that continues to drive Maryville's mission and vision.

The Journey of Maryville's Spiritual Foundress: Saint Rose Philippine Duchesne
Born in Grenoble, France in 1769, Saint Rose Philippine Duchesne first arrived at the village of St. Charles, Missouri in September of 1818. It was the end of a long journey and the beginning of one that continues today.
Saint Philippine was one of the first women to join the Society, which was founded in 1800. Saint Madeleine Sophie travelled to Grenoble in 1804 to meet Philippine. She welcomed her into her new order and together they established a foundation in that city.
Thus began the lifelong friendship between Philippine Duchesne and Madeleine Sophie Barat. But even greater was the attraction that drew the older of these two women to teach Native Americans in the New World. Living, by that time, in Paris with her beloved superior, Mother Barat, she met Bishop Louis DuBourg of Louisiana when he arrived in France in 1817 to recruit religious to help him evangelize his vast new diocese. Although her order was still very new, Mother Barat agreed to allow Mother Duchesne to embark on this bold missionary venture.
She travelled with four other religious from Bordeaux to New Orleans, a seventy-day voyage on the little ship, the Rebecca. After a brief stay with the Ursuline nuns in Louisiana, the five Religious of the Sacred Heart made the forty-day trip up the Mississippi to St. Louis on the steamboat Franklin. Having no house in the episcopal city to accommodate the nuns, Bishop DuBourg assigned them to St. Charles, where they rented the "Duquette Mansion," a log cabin overlooking the Missouri River. One week later, on September 14, 1818, Philippine opened the first Sacred Heart school outside of Europe. It was the first free school for girls west of the Mississippi.
 
From Academy to College
The Religious of the Sacred Heart followed a path that, while long and winding, remained centered on a core set of values.
Philippine Duchesne did not stop after establishing the first school in St. Charles. She established a second in nearby Florissant, Missouri which was transferred to the Sisters of Loretto in 1846. Her third Academy of the Sacred Heart, established at Broadway and Convent streets in the city of St. Louis, opened in 1827 as La Maison de Ville, the City House. The property had been leased from philanthropist John Mullanphy for 999 years, with a provision that there would always be an orphanage on the property as well as the day school and boarding school.
The growth of St. Louis necessitated another move. In 1864, 21 acres of property at the corner of Meramec and Nebraska Streets (Withnell's Grove) were purchased for the Academy for $40,000. After financial difficulties slowed construction, Maryville Academy (Mary's Villa) was finally completed in 1872.
This new "country home," designed by architect James McNamara, opened on September 5, 1872 with 80 boarding school students. Also part of the new complex was a free school for nearly 70 underprivileged children, and a novitiate for 11 young women.
During the following year, 1873, four young women received the first degrees conferred on the Maryville campus.
With its educational roots in France, the school was based on a six-year French Lycee pattern— which included the equivalent of junior college work at the two highest levels. Many French customs prevailed throughout the school, from the celebration of traditional French holidays (congés) to the games students played after school hours (a glorified hide and seek known as cache-cache) and even the daily snacks, or goûter. The French language was taught at all levels, and girls were encouraged to speak it at all times, especially during meals.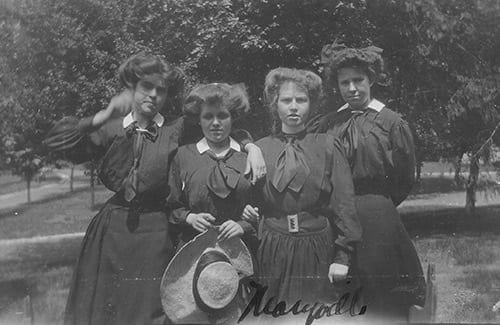 Some of Maryville's first families were influential in the development of St. Louis.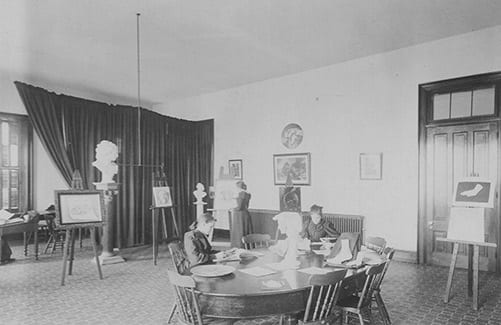 Maryville students at work in the campus art studio.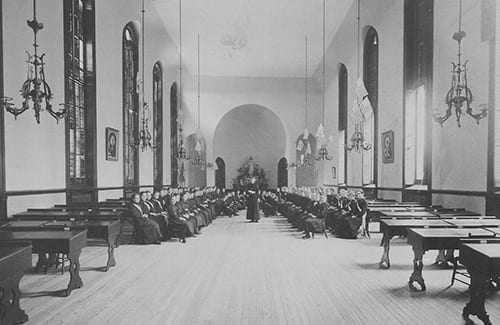 Women stay current with coursework in study hall.
School activities included lectures, recitals, concerts and even early "moving pictures." So complete was the education taught at the Academy, that—by 1900—women who continued their education after leaving the school were receiving college credit for their last two years there. By 1910, enrollment had reached 181, more than double its original.
From the very beginning, many of our distinguished alumni have been part of families who were influential within the St. Louis community—contributing to the civic, social and business development of the city. Some were descendants of the very early French families: Chouteau, Papin, Cabanne, Desloge, Benoist, Fusz, Chambers and Valle. Some were members of German families who arrived in the 1850s: Anheuser, Busch, Bardenheier, Griesedieck, Von Brecht and Padberg.
The Irish were represented by numerous descendants of Alexander McNair, the first governor of Missouri, and John Mullanphy, early patron of the Sacred Heart and father of a mayor of St. Louis.
There were daughters of families who were prominent in the 19th century growth of St. Louis: Fruin, Barney, Haydel, Gross, Schlafly, Clemens, Ring and more. There were descendants of Joseph Murphy, maker of the famous "Murphy Wagon"— the prairie schooner that took many pioneers west.
In addition to these first families of St. Louis, there are many multi- generational families—women, and now men—who continue the family tradition of a Maryville University education.

"I will not forget"
By 1912, Maryville's lifelong impact on young women's lives was already evident. Acknowledging this, former graduates met with Reverend Mother Reid and Mother Sturgis to plan the formation of a Maryville Alumnae Association. On May 15, 1913, the first Alumnae Association luncheon and meeting took place and the group adopted the motto that remains today: "I will not forget" (taken from Isaiah, 49:15).
Later, in 1933, Maryville alumnae would co-sponsor with St. Charles, City House and Villa Duchesne the first meeting of alumnae from Sacred Heart academies and colleges throughout the country to form a national organization: AASH (Associated Alumnae of the Sacred Heart). More than 200 women would meet in St. Louis to create the ties that still exist today between alumni of this worldwide system of schools. Maryville alumna Sarah Chambers Polk, who promoted the case for greater connection among the associations, was elected the first President of the AASH. Historian and Maryville professor Louise Callan, RSCJ, wrote of this meeting: "It is fitting that the convention be held in St. Louis where Philippine Duchesne and her pioneer band had planted the seed that was now being harvested so splendidly." (Society of the Sacred Heart in North America, pages 721-722)

A College is Born
In 1919, Maryville's two highest classes ("first and superior classes") were officially recognized as a Junior College by the state of Missouri. Then in 1923, it was announced that Maryville would become a four-year college, with the first degrees granted in 1925. By the end of the decade, Maryville College and its Academy formally separated, with Academy classes moving to a new West St. Louis County site named Villa Duchesne.
In 1941, one year after the beatification of Mother Philippine Duchesne was announced in Rome, Maryville College received independent accreditation from the North Central Association of Colleges and Secondary Schools. True to its original mission, the College was rooted in a liberal arts tradition, with career-focused and pre-professional programs rounding out the curriculum. Maryville's commitment to educating the whole student, academically, socially and morally, was key to its Sacred Heart beginnings, as was its commitment to serving the community surrounding the college.
The College's physical growth prompted a move to a new campus in West St. Louis County, dedicated by Cardinal Joseph Ritter on April 23, 1961. True to their "I will not forget" promise, Maryville's alumnae led a $1 million development drive, which helped make construction of the campus possible. Maryville parents literally rolled up their sleeves to help the nuns sweep the new dorms and set up furniture just hours before the first classes arrived.
Amid 290 sprawling acres, four buildings comprised the campus: Gander, Duchesne, Reid and Kernaghan Halls.

Seeds of Change
By the end of the 1960s it was clear that a "revolution in higher education" was coming, and Maryville was ready to respond by reinventing itself to meet the needs of students while remaining financially solvent.
Key among the changes was the decision to admit men in 1968, then providing housing for them on campus in 1972.
The absorption of the nearby Mercy Junior College nursing program led to the creation of Maryville's Department of Nursing and Allied Health (forerunner of today's Myrtle E. and Earl E. Walker College of Health Professions).
Strategic partnerships with other local colleges expanded program options for Maryville students, and new programs and majors were added at an accelerated pace.
In 1972, Maryville's Centennial year, the Society of the Sacred Heart turned governance of the College over to a lay board of trustees, with a provision for five Religious of the Sacred Heart to remain seated on the board at all times. Past and present, forever linked.
Maryville University Today: Leading the New Revolution in Higher Education
With historic growth over the past decade, the University now welcomes students from all 50 states and 52 countries. Some students attend remotely, via online courses accessed from all corners of the world. Others attend classes on the Maryville campus or at satellite locations in the evening and on weekends. Many of our 10,000 students still live on, or commute to, the main campus—now expanded with state-of-the-art classrooms, digital technologies and flexible living and learning spaces.
On the surface, today's Maryville would seem to bear little resemblance to the sparsely-populated campus that opened in 1961, dotted with few classroom buildings and one residence hall. But, once again, a revolution in higher education is happening, and, like its spiritual founder Rose Philippine Duchesne, Maryville is leading the way.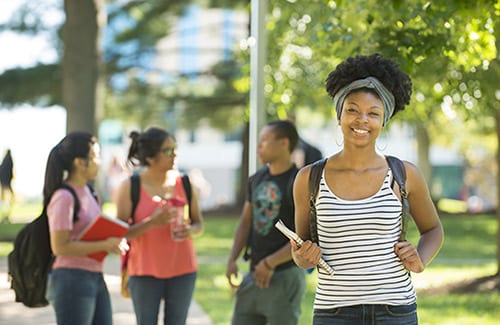 Diversity and Inclusion is a core value of Maryville's mission.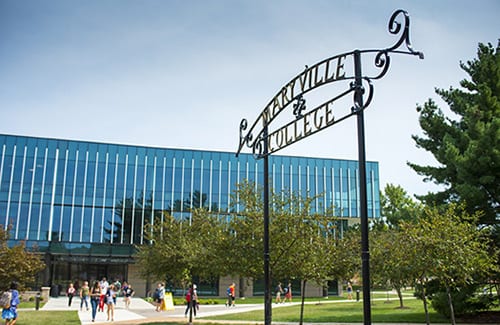 Maryville continues its leadership role in providing higher education to all.
Maryville is pioneering new, personalized teaching methods that are designed for the way each student learns.
Life Coaches advise and mentor students from before they set foot on campus and throughout each individual's college experience, just as the Religious of the Sacred Heart once counseled each student through his or her educational journey.
Maryville is building partnerships throughout the community, both to strengthen its academic offerings and to fulfill its obligation of being a good neighbor in a civilized society.
With "Diversity and Inclusion" a core value of Maryville's mission, strategic growth is carefully planned to ensure that students, faculty and staff reflect the racial and ethnic diversity of the American experience.
And just as the Religious of the Sacred Heart sought to extend the basic right of education to all students, rich and poor alike, Maryville seeks to provide necessary financial assistance to help all students achieve equity in their education. Heart of Maryville Award
This award recognizes and honors alumnae who best exemplify the values and traditions of the Sacred Heart.
View Awardees Bicentennial Celebration
An entire year of activities and remembrances will honor the Sacred Heart's remarkable history of crossing frontiers.
View Events Alumni Association
In 1913, the first alumnae association luncheon and meeting took place and the group adopted the motto that remains today: "I will not forget." 
Explore More