2017 Orientation Schedule
---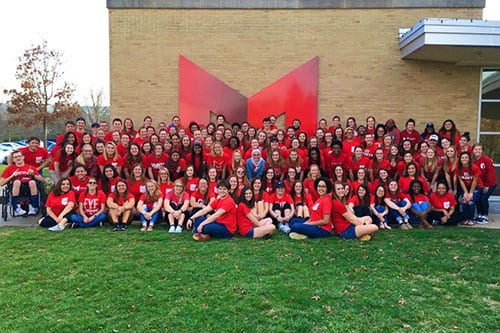 The Saints Nation team is made up of current students are looking forward to welcoming you to Maryville. Saints Nation is led by our four coordinators, Brittany Pomilee, Taylor Zobrist, Courtney Croy, and Kirby Cooper who have been working all summer to ensure that orientation is a blast!
We are excited to have you on campus for Orientation in August!
Download the Maryville Orientation app today!
You can also get our app by searching for "Maryville Orientation" in the app or Google play store.
THURSDAY, AUGUST 24
Residence Hall Check-in & Move-in: Donius University Center (Breakfast or Lunch Provided – depending on move in time)
Welcome home! Spend some time moving in and setting up your new home. Breakfast is provided for students and guests for morning move-in. Lunch is provided for students and guests for afternoon move-in.
Move in begins at the Donius University Center. In order to prevent lines and provide each Saint the assistance needed, please arrive on or after your scheduled time.
Saints Hall
9 a.m. – 4th floor
9:30 a.m. – 2nd floor  – unload at front of building
10 a.m. – 1st floor and 3rd floor – unload at front for 3rd and back for 1st
Mouton Hall
11:30 a.m.  – 3rd floor
12 p.m. – 1st and 2nd floor
Potter Hall
1 p.m. – 3rd floor
1:30 p.m. – 1st floor
2 p.m.  – 2nd  floor
Floor Meetings & Welcome Activities for Residents
Meet your RA and fellow hall mates in your living area for introductions and a meeting. Then head join us for fun and food you can't miss!
2 -5 p.m. –  Open for You…Schedule an individual appointment or drop-in to finalize business (throughout campus)
4-5 p.m. – Student Athlete and Parenting Gathering with Athletics (Auditorium)
5-7 p.m. –  Multicultural Networking BBQ (DUC)
7 – 8:30 p.m. –  Speed Meeting in Resident Halls; Res Hall Meetings (Each Residential Hall/Floor)
8:30 – 11 p.m. –  A Night at the Carnival (Gander)
FRIDAY, AUGUST 25: ALL NEW STUDENTS & PARENTS
9:45 -10:15 a.m. – Multicultural Session (Walker 105)
11:15 a.m. – 12 p.m. – Commuter Student & Parent Check In (Admission/Gander Hall)
10:30 a.m. – 11:30 a.m. – Multicultural Welcome Reception (2nd Floor of Walker Hall)
12 p.m. – 1 p.m. – Academic Welcome/Lunches (Throughout Campus)
1 – 1:45 p.m –  Convening of the Class (Simon Center)
1:45 – 2 p.m. –  Students: "M" Photo (Commencement Lawn)
2 – 2:45 p.m. – Students: Meet Your Team, Your Life Coach, Develop Team Intro (Classrooms)
2:45 – 3:45 p.m. –  Students: Team Intros (DUC/DOJO/Huttig)
3:45 – 4:45 p.m. – Students: Community Icebreakers
4:45 – 5:30 p.m. – Students: Meet Your USEM Faculty
2:00 – 5:00 p.m. –  Parents:
Life Coaches & Support Systems Social (PCC/Library/Walker 2nd Flr)
Parent Orientation (Auditorium)
Connect w/ Resources, Relax, Recharge (Throughout Campus)
5:30 – 6:30 p.m. –  Farewell BBQ (Simon Center)
6:30 – 8:00p.m. – Parents: President's Parent Reception (Gander)
6:30 – 7:30 p.m. – Students: The Price is Right (Auditorium)
7:45 – 9:00p.m. – Students: David Coleman: Dating Doctor (Auditorium)
Saturday, August 26th: New Students Only
9 – 10:30 a.m. –  Breakfast with your Neighbors (Dining Hall)
10:30 -11  a.m. –  Good Morning Maryville! (Gander Quad)
11 a.m. – 12 p.m. – Orientation Play (Auditorium)
12  – 2 p.m. – SN Team Meetings & Lunch (Dining Hall/Classrooms)
2:00  – 4 p.m. – Maryville 101 (Throughout Campus)
4:00  – 6 p.m. – Break or Activities (Throughout Campus)
6:00  – 7 p.m. – Dinner at President's House (President's Backyard)
7:00  – 8 p.m. – Spiritual Gatherings (Throughout Campus)
8:00  – 9 p.m. – Judson Laipply: Evolution of Dance (Auditorium)
9:00  – 12:00 a.m. – Orientation Dance (Donius Atrium)
Sunday, August 27th: New Students Only
9:30 – 10:45 a.m. – Breakfast with Academic Schools (Dining Hall)
10:45 – 11:30 a.m. – Finding Your Classes (Throughout Campus)
11:30 a.m. – 12 p.m. –  The Mindset of a Saint: A Professor's Perspective (Auditorium)
12  – 1:30 p.m. – "Dramatic Dialogues" Performance (Auditorium)
1:30 – 2:30 p.m. – Dramatic Dialogues Discussion with USEM/Lunch (Classrooms)
2:30 – 3:30 p.m. – Student Only Panel (Auditorium)
3:30 p.m. – University Week of Welcome (UWOW) KickOff
Local Hotels
Drury Plaza Hotel St. Louis – Chesterfield
355 Chesterfield Center E, Chesterfield, MO 63017
$104/night
Reservation Link: https://www.druryhotels.com/Reservations.aspx?groupno=2312929
Marriott – St. Louis West
660 Maryville Centre Drive, St. Louis, MO 63141
8/23: $129/night
8/24-8/26: $99/night
To receive special rates, please email please email jmichaels@stlmarriottwest.com or call Jamie Michaels at
314-514-6107 to make your reservation. Please mention "Maryville University Orientation" to get the special rate