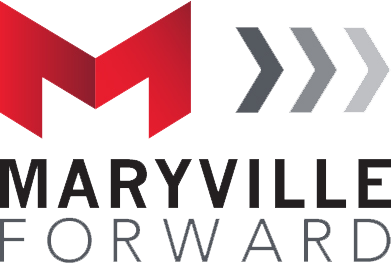 Join

the Movement!

When you donate $1,000 or more to the Maryville Fund, you will be part of Maryville's newest recognition program for annual giving: Maryville Forward.
Why donate to the Maryville Fund?
Gifts to the Maryville Fund provide the flexibility needed to meet current and future priorities of the University. Your annual gift of $1,000 or more to the Fund establishes your membership in Maryville Forward. With this substantial support, Maryville can respond quickly to new opportunities, while also meeting immediate (and sometimes unexpected) needs of students and faculty. Maryville Forward is more than a giving club; it is an opportunity to propel Maryville "forward" into the next 150 years.
Maryville Forward supports these and many other key areas of the University:
Scholarships
Athletics
State-of-the-art technology
Student organizations and clubs
Student emergency funds
Schools, Colleges and academic programs
Faculty professional development
With a gift of $1,000 or more to the Maryville Fund, you will be making an immediate impact on the students of today, in real time. Through your membership in Maryville Forward, you are part of the collective strength of the University community. Your donation will help provide resources such as tuition assistance, collaborative equipment and technology, study abroad experiences and so much more.
Limited Offer: Commemorative Coin for Charter Members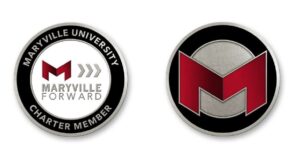 When you join Maryville Forward during the inaugural launch (January 1, 2022, through May 31, 2023), you will receive this one-of-a-kind commemorative coin, signifying that you are a charter member.