First-Year Experience Excursions
---
The First-Year Experience Excursions are unique opportunities that connect First-Year students to other incoming and returning students through faculty and staff-led programs. The First-Year Experience Excursions are optional and provide students a chance to meet others who have similar interests. Students spend one night on campus in a residence hall and then go out into the Maryville community to explore St. Louis, tour a sports stadium, conduct a service project, or participate in other action-packed adventures for the day. Students who have participated in the First-Year Experience Excursions have had a positive experience and met some of their best friends.
The First-Year Experience Excursions will take place June 22-23, 2017. Students will arrive on campus on the evening of June 22 for dinner on campus, fun-filled activities with other First-Year students, and a night in a residence hall. Students can choose among Action, Culture and History, Service, Sports, St. Louis, and Science. The cost for each excursion is $35, which includes dinner on Thursday evening, lodging, breakfast and lunch on Friday, transportation to and from the excursion location, and all entrance fees. Students should plan to bring their own toiletries, linens, alarm clock, and comfortable walking shoes for the excursions.
Space is limited, so sign up soon! All deposited students will receive an email with registration information.
If you have any questions about the First-Year Experience Excursions, please contact the Division of Student Success at 314.529.9477 or succeed@maryville.edu.
Experience Action
Get in touch with your adventurous side by choosing Experience Action. Your group will have a blast at Sky Zone, the world's first all-trampoline playing court. Together you can enjoy battles of dodge ball or just have fun reliving your childhood!  Afterward, enjoy lunch at The Old Spaghetti Factory in Chesterfield.
Experience Culture and History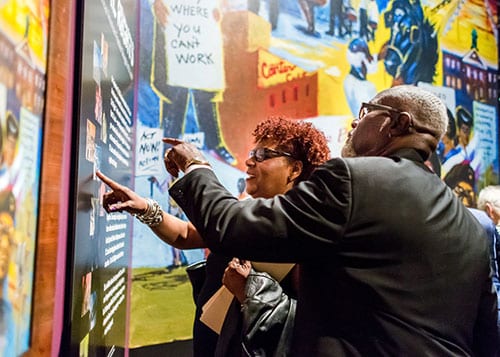 Ready to immerse yourself in an interactive experience to learn more about St. Louis? In the Experience Culture and History Excursion, you will explore the Missouri History Museum in Forest Park. Crowned as one of the St. Louis' most educational museums, participants will discover and gain a better understanding of the culture and history of St. Louis. Together with faculty and staff, this excursion will focus on exploring the #1 in Civil Rights: The African American Freedom Struggle in St. Louis exhibit.
Experience Science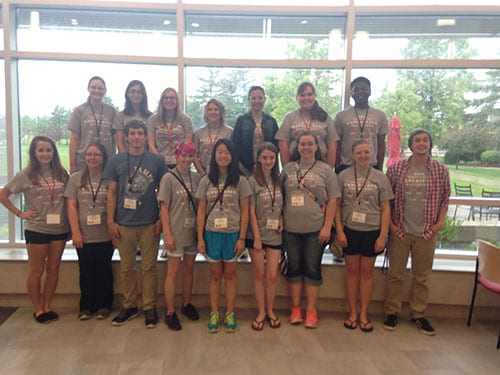 Explore all the St. Louis Science Center has to offer by enjoying interactive exhibits on outer space, dinosaurs, the science of flight, and electricity.  Participants will catch a show at the OMNIMAX® Theater, a state-of-the-art, five-story domed theater that immerses you in the movie experience.  Afterward, enjoy lunch at The Old Spaghetti Factory downtown.
Experience Service
Come spend some time playing with animals at a local animal shelter in the St. Louis area.  Volunteers help out by caring for, walking and playing with dogs and cats sheltered at the center.  In just a few short hours, you will leave a lasting impression on your community, and you might make a few furry friends as well!  Afterward, enjoy lunch at The Old Spaghetti Factory.
Experience Sports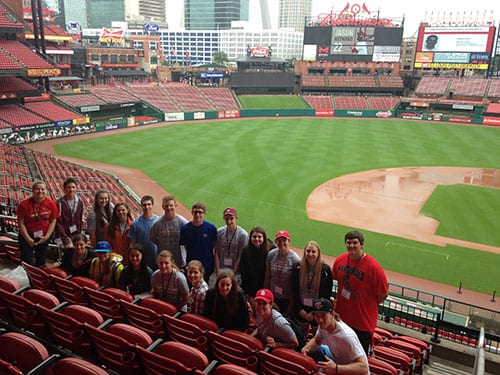 Participants of Experience Sports will get a close-up view of the St. Louis Cardinals' dugout and enjoy a behind-the-scenes tour of Busch Stadium.  See the home of the Cardinals while keeping your eyes peeled for Fredbird.  Afterward, enjoy lunch at The Old Spaghetti Factory downtown.
Experience St. Louis
Take part in a day of hands-on adventure at the City Museum, a famous St. Louis landmark.  This one-of-a-kind museum contains tree houses, a rooftop Ferris wheel, tons of slides, and an enchanted cave waiting to be explored.  Afterward, enjoy lunch at The Old Spaghetti Factory downtown.