Spirit of Maryville 2019: Greg Schwartz, '10
---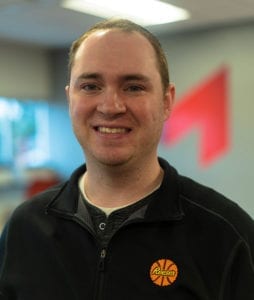 Life has been sweet for Greg Schwartz. Not only did he discover his career interest as a student at Maryville; he also met his wife, Tracey Schrock Schwartz, '09, on campus. Most telling of all, his career path took him to the "Sweetest Place on Earth": Hershey, Pennsylvania. For more than five years, Schwartz has worked as a brand manager for The Hershey Company, promoting products like Kisses and Bliss.
Schwartz likens his job to running his own business, a concept he learned from his former professor, John Lewington, PhD. On any given day, he moves from developing packaging to directing consumer communications to managing a financial portfolio.
At Maryville, Schwartz and his roommate created an organization that ran student programs on weekends like skiing and laser tag. As an alumnus, he has reengaged as a member of Maryville Hillel's Advisory Council. Fittingly, Schwartz is dedicated to providing as much candy as possible for the group's annual "Chocolate Seder"; a Passover Seder done completely in — what else? — chocolate!