Spirit of Maryville 2018: Wings of Hope
---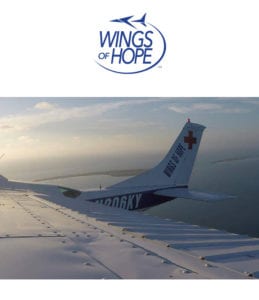 Founded in 1962, Wings of Hope is an aviation nonprofit organization that delivers humanitarian programs to impoverished communities worldwide to help them become more self-sufficient through improved health, education, economic opportunity, and food security. Currently working in 13 countries around the globe, including the United States, Wings of Hope works side-by-side with communities working toward self-sufficiency.
Wings of Hope established its Medical Relief and Air Transport (MAT) Program in 2003 to serve the needs of families to reach lifesaving specialists when medical crises threaten the lives of their children and loved ones. The MAT Program is the only free medical air transport service in the U.S., with specially equipped aircraft that can accommodate stretchers, wheelchairs and medical equipment.
The organization was nominated for the Nobel Peace Prize in 2011-2012 and was a Conrad N. Hilton Humanitarian Prize Nominee in 2007-2014. Wings of Hope has a 4-Star rating on Charity Navigator and is a GuideStar Gold Participant.