Spirit of Maryville 2018: Rodney Lewis
---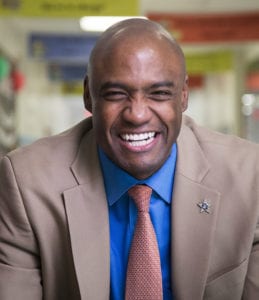 Convinced that every child has the opportunity to attain their own "greatness," Rodney Lewis, EdD, '11, has positively contributed to the lives of thousands of elementary students in his career. As principal at Ballwin Elementary School in the Rockwood School District, he personally greets students every single morning. Lewis has confidence in each student and encourages them to maximize their intellectual potential.
Previously, Lewis served in various principal, assistant principal and teaching roles within the Parkway, Valley Park, Ferguson-Florissant and Rockwood school districts. In each role, he has embraced the notion of "one person cannot do it alone" and is recognized for cultivating meaningful relationships with his students, staff and school community.
As first-generation college students, Rodney and his twin brother, Ron, founded The Lewis Influence, an organization designed to provide first generation college students with the psychological tools necessary to achieve success. They became authors in 2014 with their hard-hitting book, Gritty, about consistently overcoming adversity and creating long-term success in college and life.
Rodney recently accepted a position as assistant superintendent of human resources in the St. Charles School District, starting fall 2018. He holds a master's in educational administration and a doctorate in educational leadership and administration from Maryville.