Army ROTC Scholarships
---
In partnership with Washington University, Maryville offers the Army ROTC program to qualified, degree seeking, full-time students who have a desire in becoming a commissioned officer in the United States Army. As a student of Maryville University and an Army ROTC cadet, you will be required to remain in good academic standing and meet physical fitness standards.Maryville students receiving the federal scholarship including tuition and fees will also have room and board covered by Maryville. The award is not transferable to other on- or off-campus housing, books or other educational expenses.
Recipients are required to complete the FAFSA process, as well as a dorm contract for each year of study. With both the federal stipend for ROTC and Maryville providing room and board, no other Maryville University funding program will be made available.
For more information regarding the Army ROTC Program and funding benefits, visit Army ROTC or Gateway Detachment Web site.
Students competing for Army ROTC scholarships also qualify and can compete for Maryville institutional scholarships. For more information on institutional scholarships please visit Freshmen Scholarships.
Campus Based Scholarships
Current Maryville University students can apply for 3-year, 2.5-year and 2-year On-Campus scholarships. Students must be in a full time status (12 credit hours or more). Enrolling in the Maryville Army ROTC class is the first step. Scholarships are merit based. College GPAs, student's activities, Army's Physical Fitness Test and becoming medically qualified are part of the scholarship process. Please contact Mr. Rodriguez for more details.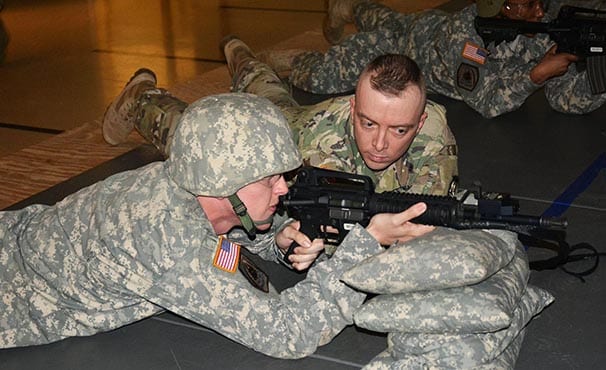 Simultaneous Membership Program
The program is called the Simultaneous Membership Program (SMP), and it means that while you're still in college, you can be gaining valuable experience and earning extra income. In the SMP, you will be paid at the rate of at least a Sergeant E-5 for your Guard or Reserve service. In addition, you'll receive the ROTC Advanced Course allowance as well. You'll serve as an officer trainee in a Guard or Reserve unit and perform duties commensurate with the grade of second lieutenant. Once you graduate and receive your commission, you may continue your military service with your Reserve or National Guard unit or go on active duty.
Green–To–Gold
The Army Green to Gold program is designed to offer Enlisted Soldiers in the Army the opportunity to earn commissions as army officers. This program offers enlisted soldiers two unique ways to earn a baccalaureate degree:
Green to Gold Scholarship Option — For soldiers who are considering leaving active duty to attend college.
Green to Gold Active Duty Option — For soldiers who want to remain on active duty and attend college.