Reading time: 3 minutes
During an experiential trip to San Jose, Costa Rica, students from Maryville's occupational therapy and physical therapy programs shared their skills with people in geriatric and pediatric facilities, and learned from each other in the process.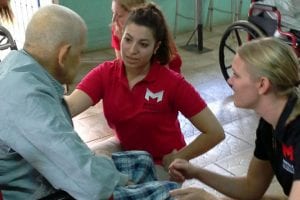 The trip took place last January, in collaboration with the Universidad of Santa Paula. This marked the second annual Costa Rica experience for Maryville students. Last year, physical therapy students were joined by music therapy students. Activities involve participation in rehabilitation and health screenings of children and adult populations. Students in the communication sciences and disorders program also participate in the inter-professional education with its shared courses and opportunities.
"This was an inter-professional and interdisciplinary trip in line with the vision of our institution to develop culturally competent and globally aware practitioners," says Michelle Unterberg, PT, DHS, assistant dean for the Walker College of Health Professions and director of the physical therapy program. "This service learning trip was an opportunity for students to develop cross-cultural experiential learning through service activities."
"The most rewarding part of the trip was seeing the smiles on the faces of the elderly people that we worked with," says Amelia Andrade, fifth-year physical therapy major. "It warmed my heart that despite us being total strangers, they asked at the end of the day if we would be returning again because they enjoyed our company so much."
Nicki Ernat, fourth-year occupational therapy major learned about the critical need to recognize non-verbal communication cues. "So much can be communicated through physical touch, facial expressions, and eye contact," Ernat says.
"It warmed my heart that despite us being total strangers, they asked at the end of the day if we would be returning again."
Through this experience, students learned to work together as an interdisciplinary team to achieve a common goal for the patient. There were many benefits to working alongside occupational therapy majors, Andrade says, including the opportunity to understand different perspectives of treatments, along with exploring new ideas for exercises.
The challenge with working alongside occupational therapy students, Andrade says, is the need to determine treatment priority, along with assessing differences in treatment approaches.
"Learning where one profession begins and the other ends was challenging because there is a lot of overlap," Ernat says, adding that it was rewarding to see how the two professions work together as a system to treat the client as a whole.
"I realized that this trip was exactly what I needed to send me on the right path for my life," Andrade says. "I wasn't really sure where I wanted to end up, but part of me was dying to get out of my North County neighborhood for a peaceful change; now, I wouldn't mind staying put to serve the community that raised me into the diverse woman I am today."