Reading time: 4 minutes
A group of 20 Maryville University students traveled to Walt Disney World in Orlando, Fla., during the winter break, along with peers from Augustana College. The theme park adventure offered more than the usual attractions and larger-than-life characters; students learned valuable lessons in leadership and self-discovery as participants in the Disney Youth Education Series for college students.
Maryville participants represented various academic programs and a cross-section of student organizations.
"I was interested in this trip because of the opportunity to go to Disney World and learn leadership skills from one of the best companies in the world," says Russell Susuki, a junior in the Rawlings Sports Business Management program.
Students from Maryville University and Augustana College have participated in this leadership trip together for the past four years. The two schools also partner each year on a Leadership Exchange program held in Washington, D.C. and NACA conference programs.
Along with exposing students to broad leadership perspectives, the combined effort is a cost savings regarding group travel expenses, says Brian Gardner, assistant dean and director of student involvement. Gardner accompanied the students to Disney.
"Disney is known around the world for providing an amazing experience to its guests," Gardner says. "In a lot of ways, we want to provide the same quality of experience to our students. So, taking student leaders to learn directly from the source has a positive impact on the day-to-day experience at Maryville University."
Most students who participate in the Disney program are involved in campus organizations—either as members or senior leaders and founders.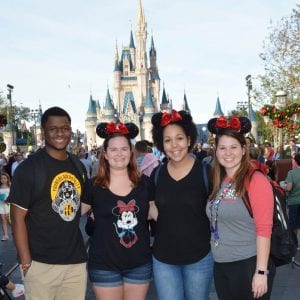 Michelle Stading is an officer of the Student-Athlete Advisory Council and a member of the Maryville University Student Occupational Therapy Association and two other clubs. She learned leadership concepts she hopes to implement on campus. For instance, she was impressed with "how Disney cast members are so focused on their organization's mission and the way Disney puts everyone in their organization first."
"I learned how to better approach team meetings and organization events," Stading says. "These lessons will be helpful for my years at Maryville University and with my future career as an occupational therapist."
Katie Schreiber, sophomore, is a dual-major in business administration and management and leadership. She recently founded a student chapter of Love Your Melon, a national organization selling products to fund superhero adventures for children battling cancer.
"I discovered so many new ideas to bring back to my club at Maryville—the huge importance of effective communication, as well as some of my own strengths and weaknesses," Schreiber says. "I will implement some of the things I learned in my club and hope my club grows and reaches out to more people. I hope all my members grow in their own leadership roles within the club as well as outside."
Brittany Pomilee, a sophomore pre-med student in biology, is a member of Association of Black Collegians, Pre-Health Society and Maryville Student Government. The experience taught her how to build interpersonal relationships, along with leadership insights.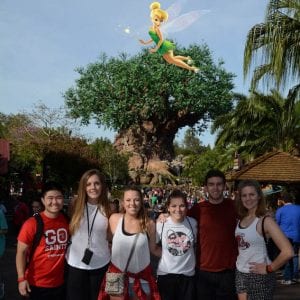 "I really hoped to gain more confidence by participating in this experience and I can say I have," she says. "I have discovered there is no perfect leader and that we should continue to strive and grow for ourselves—and for members of our organizations."
Susuki an officer for the Committee on New 'N Existing Campus Traditions (CONNECT) and a member of Notorious, Maryville's a capella singing group. He brought back specific skills he hopes to implement, including the Three-T's theory.
"The T's are training your team well, treating your team well and trusting your team. Of these, you are supposed to spend 70 percent of the time training them to set clear expectations, helping them to understand the purpose of what you are doing and to gain the knowledge to allow them to succeed," Susuki says. "I think this is applicable whether I am leading a group project, putting on an event on campus or I am leading a company meeting as a CEO."
"The Disney World trip allows us to interact with a group of motivated and talented student leaders who grow personally and professionally during the experience," says Gardner. "Our students have gained a foundation of leadership abilities that will serve them for years to come."