Maryville University Tech Bar students delivered 22 computers to Mathews-Dickey Boys' & Girls' Club
Maryville University named Mathews-Dickey Boys' & Girls' Club (MDBGC) as the recipient of 22 refurbished computers donated through its student-led Tech Bar initiative. In a tactical effort to bridge the academic achievement gap and the digital divide, MDBGC is expanding its information technology offerings and will expose youth to coding, cyber technology and data science.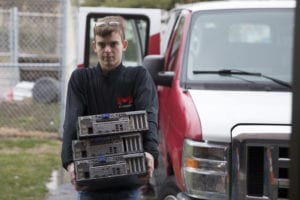 "Maryville is committed to serving as a community resource in the area of access to technology," said Stacy Hollins, PhD, associate professor of information systems. "Through the Tech Bar, our students provide services to non-profit organizations and individuals who have limited or no access to technology hardware, software and training needs."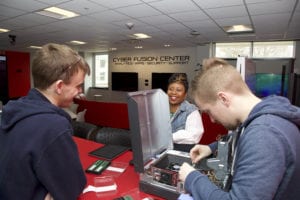 The Tech Bar is offered as part of Maryville's new state-of-the-art Cyber Fusion Center. Utilized by students in cyber security and information systems among other programs, the Center provides real-time skills-building and projects designed to assist the community. Through the Center, Maryville students also work with more than 150 nonprofit agencies in the U.S. and abroad to provide cost-free information security services.
Jobs in the cyber security industry are expected to grow by 18 percent over the next 10 years. The computers donated by Maryville to Mathews-Dickey will allow for experiential learning to help young students prepare for the influx of technology careers in the St. Louis metro area. The equipment also positions the organization to welcome additional partnerships with organizations offering training in advanced IT concepts.
"Using athletics and team building as its foundation, Mathews-Dickey targets the pervasive academic achievement gap by reengaging students into the educational process," says Mathews-Dickey President and CEO Wendell Covington Jr. "This wonderful partnership with Maryville will enable Mathews-Dickey to aid in addressing that gap along with the digital divide in impoverished St. Louis communities."
About Mathews-Dickey Boys' & Girls' Clubs: Founded in 1960, Mathews-Dickey Boys' & Girls' Club is a youth-serving organization that annually offers direct-service programming to 3,000 children ages 5 to 18 and indirect programming to over 10,000 in athletics, education, arts, healthy living and leadership and professional development. Under the leadership of President & CEO Wendell Covington, Jr., its mission continues to strive to produce well-educated, physically active and hopeful young people with families at the center of its efforts. For more information, call (314) 382-5952.