Tom Spudich, PhD, associate professor of chemistry and forensic science, encourages students to be flexible in their approach to learning and keep an open mind for research
Tom Spudich, PhD, associate professor of chemistry and forensic science, rates an "awesome" from his students, despite making them feel uncomfortable by assigning homework due an hour before the first meeting. Once past the initial shock, however, they come to appreciate his balanced mix of student-led teaching and rigorous application of lessons learned.
"I don't want to overwhelm them," says Spudich. "I use a flipped classroom so students get to ask the questions—not me—which helps them develop problem-solving skills. They learn how to push that upper bar as we expand their chemistry knowledge."
April Stich, who completed her junior year in May, is working with Spudich this summer as a research assistant.
"He gets me started, and then I figure things out—that's his style," says Stich. The two are working in micro fluidics, a science that studies the behavior of fluids through micro channels.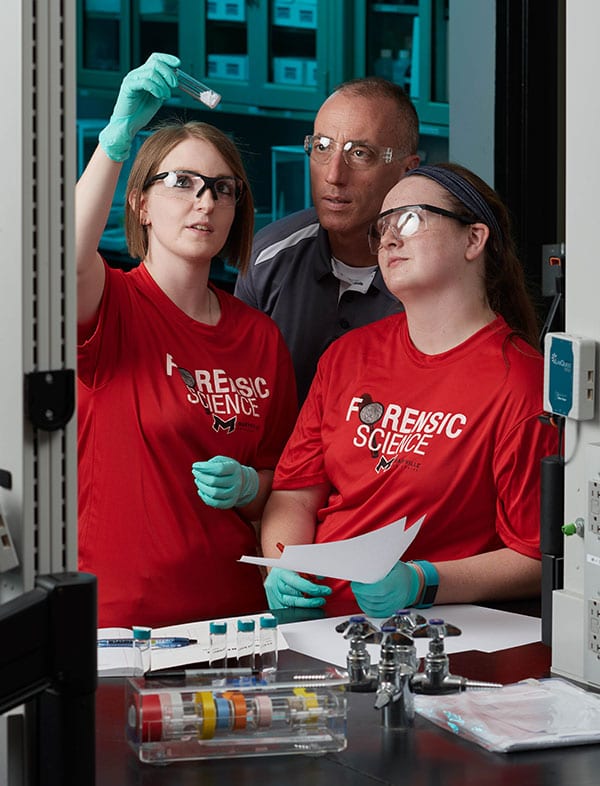 "She's done everything, including learning how to operate a 3-D printer, with little guidance from me," says Spudich. "April will do just great in whatever career she chooses because she's developing strong problem-solving skills."
Taking his own advice, Spudich meets challenges head-on and involves colleagues and students along the way. As part of his own research, he is working with former colleagues at the United States Military Academy to create a manual that will help users focus on analyzing equations from multiple chemical equilibrium processes by utilizing an open-source math solver.
"Our goal is to make this manual available worldwide on multiple platforms," he says.
Spudich moves around easily outside his chemistry comfort zone. Last spring, he collaborated with Paul Gross, PhD, assistant professor of cyber security and information systems. They supervised undergraduate research designed to assist Maryville coaches.
"Paul and I worked with our research students to analyze specific softball and baseball team data in comparison to opponent data," he says.
For example, such analysis could be used to inform the batting lineup structure to optimize run production for both teams, Spudich says.
"We met with the coaches to present our findings as well as our analysis of the teams they would be playing in the next week or two, then the coaches would decide on a course of action based on what we provided to them," Spudich says.
While Maryville Saints coaches found it beneficial, their research also impressed decision-makers in the major leagues.
"A student and I met with members of the player development and data analytics team from the St. Louis Cardinals," says Spudich. "They shared extremely positive feedback on our direction and were impressed with what we were able to accomplish."
Spudich's personal motto is Semper Gumby—"Always Flexible"—a reference to Gumby, a bendable, popular 1960s animated clay cartoon character who engaged in endless adventures, often winding up surprised by the outcomes.
"Remain open to suggestions," Spudich says, "because things don't always go as planned."