How Music Therapy Students Helped St. Louis Kids Confront Urban Trauma
By Avery Gregurich
(First published by PasteMagazine.com)
"The "Courage Counts Showcase" concert was the culmination of an eight-week program, called Life Compositions, that matched music therapy students from Maryville University with sixth, seventh, and eighth grade students of Confluence Academy Old North. The goal? To write songs about the trials and tribulations of growing up in urban areas." > READ THE FULL STORY
---
Mercy Names Maryville University's School of Nursing

ST. LOUIS – In the 1970s, Maryville University and Mercy forged a partnership to ensure the health care leaders of tomorrow received the best education possible. On Oct. 10, that dedication to excellence in education was strengthened with the announcement that, thanks to a generous gift from Mercy, Maryville's nursing program is now The Catherine McAuley School of Nursing, after the founder of the Sisters of Mercy.
"Naming the school after Catherine is a great honor for all of Mercy," said Mercy president and CEO Lynn Britton. "It acknowledges the tremendous influence she and the Sisters have had on healthcare, both by the bedside and through the 'Careful Nursing' philosophy that's still taught to Maryville students today. It also honors those who helped make our partnership with Maryville possible, especially Sister Mary Roch Rocklage, whose leadership helped us transition from two schools into an outstanding unified program that's still going strong today."
Maryville University President Mark Lombardi thanked Mercy and said, "This partnership will expand Maryville's health care education throughout the entire Mercy network and beyond through on-site and online programs that enable us to reach more students than ever before."
The Catherine McAuley School of Nursing will move into the Myrtle E. and Earl E. Walker Hall when it is completed in January 2015. This building will be the new home of Maryville's College of Health Professions, which includes the school of nursing along with physical, occupational and rehabilitation therapy and counseling, as well as music therapy and speech and language pathology.
It will house more than 70,000-square-feet of teaching space that uses new technology like smart boards and Apple TV. Helping to bring hands-on clinical education into the 21st century are the lifelike adult and child mannequins that can be programmed with symptoms to simulate illness, giving students classroom training that's real to life.
"Being well prepared for the realities of nursing is key to serving our patients," said Christine Crain, chief operating officer of Mercy Children's Hospital and Maryville alum. "When I graduated with my nursing degree, I knew I had the best possible foundation for my career, but this partnership will help ensure future graduates are even better trained."
The Catherine McAuley School of Nursing continues a long-standing tradition at Maryville of ensuring a strong education for leaders in health care, especially within Mercy. In the last 40 years, since Mercy Junior College merged with Maryville, nearly 300 Mercy co-workers have graduated and gone on to have successful careers in health care, many in leadership.
Jon Swope, regional president for Mercy's central communities in Arkansas, Southwest Missouri and Kansas, is one of those. He received his degree in management from Maryville. "As a non-clinician, getting my education as part of a program where Mercy's nursing tradition is valued really helped me understand and have a greater respect for what our caregivers do for patients each day. That's the human side of the health care business, something Maryville and Mercy have always valued."
Charles Gulas, dean of Maryville's College of Health Professions, said, "Our organizations have always shared a commitment to excellence and compassionate care. By working even closer through this new school, we'll ensure that students who will shape health care in the future are trained with the best possible academic and clinical resources."
Maryville's Vice President for Institutional Advancement Tom Eschen said the partnership is especially gratifying because it's for the long-term. "Maryville and Mercy have worked together for decades and we've only gotten stronger because of it. As quickly as the world is changing, I'm sure this won't be our last venture together. We look forward to seeing what the future brings and evolving to meet the needs of students for years to come."
Mercy is the sixth largest Catholic health care system in the U.S. and serves more than 3 million people annually. Mercy includes 32 hospitals, 300 outpatient facilities, 39,000 co-workers and more than 2,000 integrated physicians in Arkansas, Kansas, Missouri and Oklahoma. Mercy also has outreach ministries in Louisiana, Mississippi and Texas.
Maryville University Media Contact:
Marci Sullivan, Vice President for Integrated Marketing and Communications: 314.529.9349; marci.sullivan@maryville.edu
Mercy Media Contact:
Bethany Pope, Phone: 314.251.4472; bethany.pope@mercy.net; Page: 314.251.6000
---
Myrtle E. and Earl E. Walker Hall to Open in Early 2015
September 27, 2013
New Home for the College of Health Professions:
Maryville University to Break Ground for Myrtle E. and Earl E. Walker Hall
St. Louis –  Maryville University broke ground for Myrtle E. and Earl E. Walker Hall the new home for Maryville's College of Health Professions on Sept. 28 as part of Alumni Weekend festivities.
A generous gift from St. Louis philanthropists Myrtle E. and the late Earl E. Walker paved the way for the $20 million building that will include state-of-the-art facilities for the Walker Scottish Rite Clinic for Childhood Language Disorders, classrooms, meeting spaces, laboratories, offices and a planned speech clinic for adults.
"We are very appreciative to Myrtle and Earl Walker and the entire Walker family for the vision and generosity that made this possible," said Maryville University President Mark Lombardi. "Maryville's culture of excellence will be reflected in the building and all of the opportunities it will provide to our students as they prepare to meet the evolving health care needs of our community and our nation."
Chuck Gulas, dean of Maryville's College of Health Professions, said the new facility is key to providing students with access to best practices in the rapidly changing field of health care. "Walker Hall, a state-of-the-art building, will enable us to fulfill our mission to educate competent, caring and compassionate practitioners, the next generation of health care professionals," he said. "For the first time we will have the opportunity for our students to observe and provide services through the Walker Scottish Rite clinic and the Center of Community Outreach."
Sheri Mistretta, executive director of the Walker Scottish Rite Clinic for Childhood Language Disorders clinic said, "The Walker Scottish Rite Clinic is so very appreciative to Myrtle and Earl Walker for their gift and to Maryville University for creating this vision of dynamic collaboration between health care services and education. Walker Hall will bring together, under one roof, health care professionals, students and families, working toward common goals of life-altering care."
When it opens in spring 2015, the 70,000-square-foot building will double the space Maryville has for programs in the College of Health Professions. It will be located on the east of the campus quad on the site formerly occupied by Duchesne Hall. (Maryville tore down Duchesne, a 50-year-old residence hall, this summer to make way for the new building.)
Walker Hall will be Maryville's first LEED silver certified building and general contractor Paric construction of St. Louis is working closely with the University to incorporate a variety of sustainable practices in the demolition and construction process including recycling materials from Duchesne and incorporating solar energy panels into the new building's design.
Maryville's  College of Health Professions includes nationally recognized programs in nursing, occupational therapy, physical therapy, rehabilitation services, rehabilitation counseling, and music therapy and new programs in communication science and disorders and speech language pathology.
The School's programs enjoy a national reputation for excellence and Maryville's new online graduate nursing degrees, launched in May 2012, already enroll more than 1,200 students.
As the U.S. population ages, demand continues to increase for nurses and other health care professionals. Myrtle E. and Earl E. Walker Hall will provide students with a learning environment that will evolve with breakthroughs in treatments and technology.
---
Nursing Students Jamaica Clinical Trip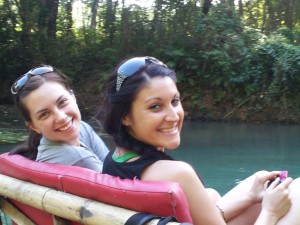 Two Maryville Nursing students, Alex Wilson and Renee Breier, and their Instructor, Lisa Sitler spent Christmas Semester Break in Jamaica. It was work with some fun thrown in. They worked in Falmouth, Jamaica in a Clinic Infirmary at an All Age School, Infant School and the Government Health Facility. They rotated sites and worked with two pediatricians and a dentist, saw over 250 patients for the week, on average of 50 patients a day. Senior Nursing student Alex Wilson dealt with two head injuries at the All Age School, while Senior Nursing student Renee Briar dealt with adult patient issues regarding diabetes, high blood pressure and women's health issues.
They worked with Matron Icee, Matron being the highest level of RN in Jamaica. She is famous for her work in the Infirmary, which houses mental patients, geriatrics and the poor. The facility she runs is amazing; every patient has to interact with other patients and staff. No patients stay in bed and she has NEVER had a bed/pressure sore in her facility! She has won numerous awards for her outstanding work in Jamaica; she travels all around the country teaching other facilities to run the same as hers.
They spent 7 days of their break in Falmouth, Jamaica working side by side with nursing students from Graceland University in Kansas City, Missouri. They made Jamaican friends and Graceland University friends that will last a lifetime. The first six days were spent working and the last day spent on the beach. They went on a float trip and swam in the Luminous Lagoon and were able to interact with the locals during working times and also after clinical hours (shopping in local bazaars and markets). Word spreads quickly when medical teams arrive at the clinic.
---
Music Therapy on CNN
A recent CNN News report on Anderson Cooper's 360 Program explored the treatment of Congresswoman Gabrielle Giffords by showing medical correspondent Dr. Sanjay Gupta experiencing rehab at TIRR Memorial Hermann Hospital in Houston. He described the team concept of treatment and clearly showed the role of music therapy.
Maegan Morrow, MT-BC, Sam Houston State University alum and music therapist at TIRR explained her work as she facilitated a session with Dr. Gupta as client.
On his blog, Dr. Gupta describes music therapy as his "favorite therapy!"