Victor Kizer, CSCS, TSAC-F, director of the exercise science program and assistant professor, has pursued his passion for exercise from the sands of Iraq and Afghanistan to the campus of Maryville University.
In 2008, Kizer served the U.S. Army in Iraq, where he started taking online courses in exercise science. His studies continued during a year-long tour in Afghanistan. "Accessing technology for course-work in the desert was a challenge," Kizer says. "A sandstorm could affect internet access, and if we had lost a service member, the internet was shut down for confidentiality. And I couldn't access information when I was out on missions."
Despite the obstacles, Kizer pushed on. He earned his bachelor's degree in exercise science in 2013 and his master's degree in fitness management in 2014. Around the same time, he squeezed in co-ownership of a gym, Defining Natural Ability (DNA), in St. Louis. Today, he's on a mission to transform physical culture in the region. "In our Exercise Science Human Performance Lab, we tie the science to the practice," he says. "I look for opportunities for students to do hands-on work in the lab, on the field or at the court."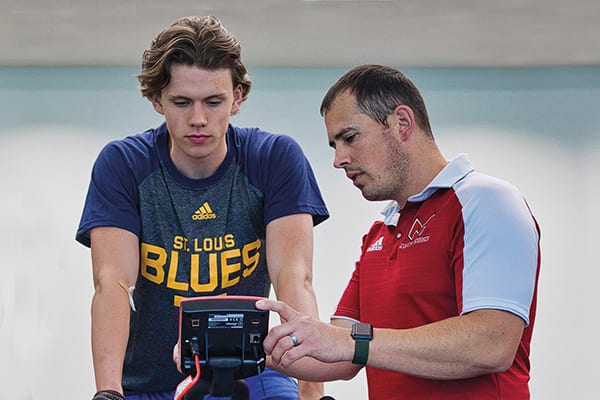 In fact, as Kizer spoke, he guided crews who were busy installing a new treadmill in the lab, housed in Myrtle E. and Earl E. Walker Hall. Nearby, new Hawkin Dynamics wireless force plates—equipment that can measure how much force is applied when a person jumps, how long he or she is in the air, asymmetries in the jump and more—had just been unpacked. "Maryville has invested in state-of-the-art equipment with sensors that collect valuable data on our students, our athletic teams and our partners," Kizer says.
At Maryville, he promotes that technology—along with innovative partnerships with health industry leaders, unwavering commitment to providing an active learning environment and internship programs—to create opportunities for students.
One of the University's partnerships is with the St. Louis Blues NHL team. "We worked with the Blues' head of strength and conditioning, Eric Renaghan, who is also an adjunct faculty member in our program, to run testing during their development and training camps," Kizer says. "We have also conducted about 1,400 body composition, jump and other tests on Maryville's student-athletes."
John Anderson, a junior and wrestling team member, worked as a performance lab assistant last summer. He plans to be a physical therapist or strength coach after graduating. "It was an amazing opportunity to get practical, hands-on experience in a professional setting," he says.
Kizer is excited about a new partnership with EXOS, an international human performance provider of corporate wellness and strength and conditioning programs to clients like the U.S. military and Bayer AG. "It's the first partnership of its kind in the country," Kizer says.
In the classroom, guests from around the country speak to students about the field. Representatives from organizations like the Sacramento Kings and the nonprofit National Strength and Conditioning Association (NSCA) visit in person or through Skype to discuss career paths from strength and conditioning to dietetics to sports medicine. Kizer helped senior Rebecca Strickland secure an internship position in Aetna Inc.'s AGILE Hire Program. "It's much more than an internship," Strickland says. "I'll rotate to five or six departments at Aetna, which is located adjacent to campus.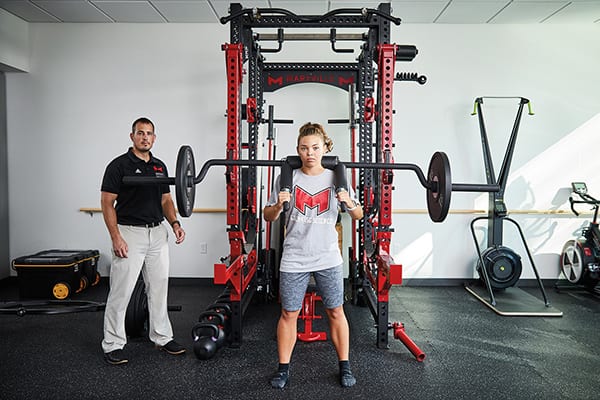 Kizer's work has not gone unnoticed. The lab proudly displays a certificate from the NSCA's Education Recognition Program, citing the exercise science program for meeting national criteria in strength and conditioning education.
"There's nothing better you can do with your life than lifting weights," says Kizer, whose doctoral research is on the potential for strength training to help fellow soldiers and others suffering from post-traumatic stress disorder.
Having put in more than 18 years with the military, Kizer is a member of the Army Reserve and has taught in the Army's Master Fitness Trainer Course in Fort Knox, Ky., and he was recently selected to serve as Missouri state director for the NSCA.
"Exercise can do so much to mitigate the negative physical effects of everyday life," he says. "It truly is the fountain of youth."
This story originally appeared in the Fall 2018 issue of Maryville Magazine.