For people with dementia, a once-busy life can narrow to world of isolation as jobs, friends and hobbies fall away. But a Maryville program encourages creativity and socialization to bring joy into a changing existence.
Opening Minds through Art (OMA) involves weekly gatherings on the Maryville campus for people with Alzheimer's and other forms of dementia. Students in the Occupational Therapy program use paint, paper and conversation to connect with the artist in those who once headed businesses or ran households.
Ashlyn Cunningham, OTD, OTR/L, assistant professor of occupational therapy, launched and oversees the program. She has witnessed participants undergo tremendous transformations.
"We often see a person come in the first week, quiet and confused, and by week three or four, they're attentive and engaged with other people," Cuningham says. "It's the relational aspect of the program, in addition to the art, that makes the difference. We support the individual by offering choices and a sense of purpose."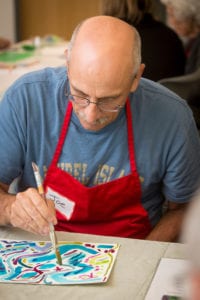 A little encouragement, a big reveal
Opening Minds through Art participants are referred through the Alzheimer's Association or by word of mouth. Launched in the fall of 2015, it's the first program of its kind in Missouri — in that it serves people who live in their homes, and who lack access to social activities provided by memory-care facilities.
"These families are looking for opportunities for their loved ones to still be engaged," says Cunningham, the state's first certified OMA facilitator.
To foster an ongoing relationship, each participant/artist teams up with one Maryville student for the full eight weeks. OMA challenges the artists as well as the volunteers, who must acclimate to the slower pace of communication and engagement of someone with dementia.
"We do a lot of waiting, and that's very uncomfortable for the students sometimes, because they're quick, and their young minds are sharp," Cunningham says.
Ashlyn Cunningham, OTD, OTR/L, assistant professor, is Missouri's first certified OMA facilitator
Patience is essential, agrees Kelly Monroy, a fourth-year occupational therapy student. She volunteered with OMA last spring, and says simple rituals help everyone ease into the process.
"We begin each session with an opening song," Monroy says. "Usually we started with 'You are My Sunshine.' It's a familiar tune and gets everyone in the mood for a positive experience."
The art projects are hands-on and abstract; there is no right or wrong method or outcome. An initial project during Monroy's term involved making designs with colored shaving cream, which produced the effect of marbled paper. The participant she paired with was a former banker, who still held himself to a high standard.
"He would try to make a circle, and if it wasn't a perfect circle he would grimace," Monroy says. But she noticed how much he enjoyed mixing colors into the shaving cream, and called upon that observation to shower him with enthusiastic praise.
Volunteers ask the artists to name their projects. One participant could only utter a single word, "Wow," when he saw what he'd created, so "Wow" became the title of his work.
The framed work goes on display at the end of the two months. Cunningham says families relish the experience of viewing their loved one's art for the first time.
"It's a big reveal," Cunningham says. "And then the work becomes an object for families to display in their homes, or for the artist to give as a gift."
Alumna Supports OMA
Barbara Cooney, '58, an alumna of Maryville's English program who now lives in Sedalia, Missouri, is a philanthropist and artist. Although Cunningham is quick to point out that that Opening Minds through Art does not fall into the category of art therapy, a specific, degreed discipline, Cooney wanted to encourage Maryville's use of art-making in the therapeutic realm. She recently donated $5,000 to OMA.
"Making art gives a person a certain sense of power over their environment," Cooney says. "It gives them a little more autonomy."
Cooney's donation will allow OMA to continue to purchase artist-grade supplies, including professional-quality paint and India ink. It also paid for Cunningham's "Train the Trainer" certification program this past summer.
OMA is a precious resource for the families as well as the artists, according to Debra Bryer, the Alzheimer's Association's early stage initiatives manager.
"It gives them an opportunity to have a little bit of a break, and to hang out and talk with each other in a very informal kind of way," Bryer says.
Bryer and Cunningham would like to see OMA expand throughout St. Louis, and in particular, to serve more African-Americans participants. Recent research shows this population has a higher risk of developing dementia.
That kind of expansion would strengthen an already important bond between the nonprofit organization and Maryville University, Byer says, adding: "It's a wonderful, valuable partnership."