Reading time: 6 minutes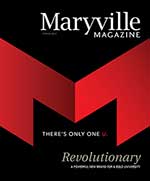 Sarah Loynd, a junior in the Art & Design program, is a firm believer that art can be a catalyst for social change. Coordinating with a group of fellow art students, she will put that theory to the test with Charity Triple Play, a fundraiser scheduled for Aug. 16, in association with the St. Louis Cardinals. The event will benefit several local nonprofit organizations, including Maryville's Kids Rock Cancer program.
Charity Triple Play is the creation of the League of Extraordinary Artists, a student group founded by Loynd. "The goal of the League of Extraordinary Artists is to create art that promotes communication which leads to awareness, and that awareness will lead to responsibility," she says. Once people become aware of an issue, they find it harder to ignore and thus are more likely to do something to solve the problem, says Loynd.
Clearly, this young artist has energy to spare. Along with organizing the Charity Triple Play fundraiser, she works two internships, one as an intern in Maryville's Office of Institutional Advancement and the other as an assistant product coordinator at AA Importing Co.
Loynd also plans to travel to Lidoriki, Greece, this summer as part of a research project that involves students and faculty from Maryville's Art & Design Program.
"I believe photography has the power to create social change because of the amount of perceived truth it has, regardless of the knowledge of photo manipulation."
But her overriding inspiration is her family, says Loynd. She is married to Brennan Loynd, '14. They have a 4-year-old daughter, Avory.
After marrying at the age of 19 and becoming a mother, Loynd began thinking about the life she wanted for Avory. That's when she decided to earn a college degree.
Loynd chose to major in studio art, with a focus in photography and a minor in art history. "I believe photography has the power to create social change because of the amount of perceived truth it has, regardless of the knowledge of photo manipulation," she says.
After seeing a documentary in one of her classes about Mending Faces, a nonprofit organization that provides surgical care to children in the Philippines born with cleft lip or palate, Loynd was inspired to host a fundraiser.
"It was difficult to see those children suffer. My heart was weighed heavy, but most of all I felt that I needed to do something about it," she says.
Over the past year, working with fellow students through the League of Extraordinary Artists, Loynd built support for Charity Triple Play within the Maryville community.
"The new studio art major is someone who innovates, creates and leads in many areas of professional activity, from fundraising to advertising to journalism," says Scott Angus, assistant professor of art. "Sarah is a talented artist, but she also is a leader who is changing the world through innovation."
To kick off the project, the art club presented an exhibit last January called 'Portrait Manifestation." The juried show featured self-portraits of students, faculty and alumni. From that group, 14 artists were selected to create the portraits of 10 St. Louis Cardinals baseball players, Cardinals Manager Mike Matheny, the old and new stadiums, and the late Cardinals outfielder Oscar Taveras.
The original portraits have been reproduced on souvenir cards and posters, which will be autographed by participating Cardinals. The artwork will be auctioned during the Charity Triple Play fundraising event to be held in August at Busch Stadium. The evening will include an opportunity to meet the players, an oral auction of the original artwork, a silent auction of donated items that include vacation trips and signed sports memorabilia, and additional surprises.
In addition to Mending Faces, the event will raise money for Cardinals Care and Kids Rock Cancer—thus, a triple play. Cardinals Care is the team's community foundation, which gives grants to small nonprofits serving youth. Kids Rock Cancer, an initiative of Maryville's music therapy program, provides an emotional outlet for children battling cancer and other blood disorders by helping them compose and record their own songs.
The fundraiser is part of Loynd's institutional advancement internship, says Tom Eschen, vice president. "Through her own enthusiasm and initiative, she's been able to pull off a project that involves students, faculty, alumni, outside artists and community partners, including the St. Louis Cardinals," he says. "And all of this will showcase the talent at Maryville while benefiting great organizations."
"It's exciting that Charity Triple Play is actually going to happen," says Loynd. "So many people have been helpful. Raising money to help all these kids—that's what fuels my fire."
That drive to create, and to make things happen for others, grew stronger after Loynd arrived at Maryville, she says.
"I have such Maryville pride," says Loynd. "The University has opened up so many opportunities for me that I would never have had if I didn't come here. This is the first time in my life I ever felt like I was really finding my place in this world."
About Charity Triple Play
Charity Triple Play will be held Aug. 16 after the Cardinals vs. Marlins afternoon game, and will include an oral and silent auction, hors d'oeuvres and drinks. Tickets may be purchased online and are $50 each.
The auction features original portraits of St. Louis Cardinals players and more created by Maryville students, faculty, staff and alumni.
Proceeds will benefit Cardinals Care, Kids Rock Cancer and Mending Faces.