After learning Maryville would drop its inline hockey club program after the 2012 – 2013 season due to the lack of student interest, then first-year student Drake Smith pledged to bring it back.
Smith, a physical therapy major, achieved his goal this year when Maryville's Inline Hockey team returned as a member of the National Collegiate Roller Hockey Association (NCRHA). The team competed in the Great Plains Conference in Division II along with Illinois State University, Kansas State University, University of Central Missouri, Southern Illinois University-Edwardsville and Missouri University of Science and Technology.
Maryville finished 8-7-1 for a total of 17 points in the regular season to place second behind Kansas State. Smith, who plays forward, finished the year with 10 points on four goals and six assists.
"For being our first time playing in a collegiate league, the season went really well," says Smith, who serves as club president.
The Saints lost in the regional semi-finals to Illinois State, finishing third. The team missed the national playoffs by two bids.
"The league offers bids to 20 teams throughout the country, and we were the 22nd team to receive a bid," says Smith.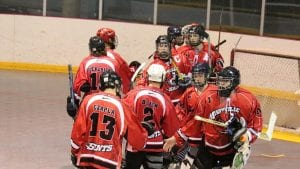 The hockey team has about 18 participants, two of whom are graduate-level students.
"We allow anyone to join the program regardless of their skill level," says Smith, "However, we only dress 10 players for our games."
Smith expects the team to elevate its game next year, since the majority of the team is returning. He also anticipates new recruits with hockey experience to give Maryville the edge.
"I believe we will be very competitive next year at the Division II level," says Smith. "We have our eyes set on making it to Nationals next year."
Having a club team to join was important for Smith. It was worth the time to assist Maryville in adding another sports program, he says.
"The biggest benefit for me was creating relationships with my peers who share similar interests," says Smith. "Another benefit for me is being able to continue playing sports in college without the heavy schedule that comes with being a collegiate athlete."
Maryville has 22 club sports, including 12 co-ed sports teams such as chess, paintball and table tennis. For more information on Maryville's club sports, visit http://playmaryville.com.