Reading time: 1 minute
Olaide Sangoseni, PhD, assistant professor of physical therapy, has been invited to participate in the 2016 Geriatric Leadership Scholar Program, presented by The Gateway Geriatric Education Center in St. Louis. As a way to improve future care for older adults, faculty participants focus on teaching and assessing gerontology students.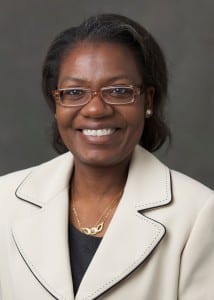 Maryville University's Physical Therapy program will receive $30,000 in salary support for Sangoseni's participation, which begins in July 2016.
"My recognition as a Geriatric Scholar will increase my ability to continue training students who will become clinicians who are culturally aware, and are able to use evidence-based strategies to respond more effectively to the needs of older persons," said Sangoseni.
Sangoseni has made significant contributions in the field of gerontology, and has provided wellness screening and movement analysis for the elderly, especially for those from minority populations in national and international locations.
The Gateway Geriatric Education Center is part of the Division of Geriatrics at Saint Louis University.