Reading time: 2 minutes
In this Pokémon Go moment, you might need to suspend disbelief.
The new augmented reality video game, played on mobile devices and based on a '90s Japanese cartoon franchise, has garnered more daily usage in one week than Twitter, and has caused Americans to leave their air-conditioned homes and walk great distances in the humid outdoors in search of small mythical electronic creatures named Pikachu and Charmander.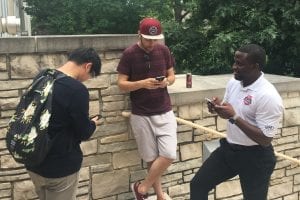 Such is the world of Pokémon Go, the sensation sweeping the nation for which there is little to no historical precedent. If you look closely enough while driving to work, visiting the zoo, or sitting on your front porch, you'll witness roving bands of players, smartphones in the air, getting unplanned exercise and actually enjoying it. Just days after the game's release, Maryville's Esports team, (one of 10 club sports offered on campus), joined the legion of Maryville students, high schoolers, and nearby office workers traversing campus on the hunt for Pokémon.
Pokémon Go is the most successful example of an augmented reality video game in history.
"Maryville's campus is lit for this game," says Dan Clerke, Maryville student and director of Esports. "With 15 Poké Stops and Donius University Center as the gym, this is a great place to play Pokémon Go."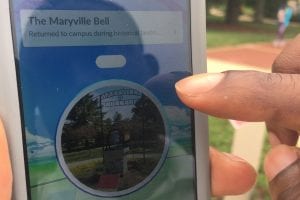 Creation of the game required nothing more than location tracking, Google Maps, and a smartphone camera. Simplicity aside, it is the most successful example of an augmented reality video game in history.
"Pokémon Go combines great hardware, software, and creative content to make something truly revolutionary," says Matt Raithel, associate instructor of game design in the Art & Design Program. "Our new game design concentration coming this fall seeks to help students understand how these three principles can come together to make engaging and entertaining interactive experiences that the world can enjoy."
One week into the craze, Mario Morgan, assistant director of admissions, suggested Maryville drop a "lure" at all 15 campus Poké Stops. As a result, campus was abuzz with Pokémon creatures and players.
Clerke has announced the formation of a Maryville Pokémon Go Club, with details to come.
"If they continue to release updates and keep it interesting, people will keep playing," Clerke says of the game's popularity. "The new club will hold big gameplay events on campus."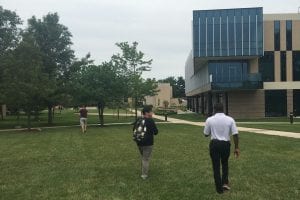 Clerke has spent his gaming career playing complex video games, like League of Legends and Counterstrike. Why Pokémon Go? "I love it. The game is fun. And video games are the future."