Kaylee Burton, a recent graduate of Maryville's Rawlings Sport Business Management Program, has volunteered at many sporting events. But it wasn't until this past spring that she got the chance to experience one of sports' most time-honored traditions: interacting with fans as the team mascot.
Burton became "Stitch," a uniform-wearing baseball, while volunteering at the Frisco College Baseball Classic in Frisco, Texas. "The assignment was the one I was dreading the most, but ended up being the most fun," she said. "That's why I love the experiential learning opportunities offered through the Rawlings Sport Business Management Program. I was able to get out into the real world to learn what I like and don't like, and I learned a lot more by doing than by just being in the classroom."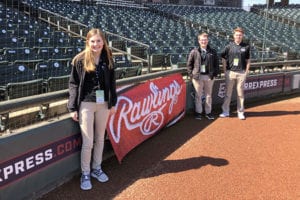 Burton volunteered at the baseball tournament thanks to a new partnership between Maryville University's Rawlings Sport Business Management Program and Peak Sports MGMT, a husband-and-wife-owned sponsorship and event management firm based in McKinney, Texas.
The company manages two premier college baseball tournaments: the Frisco College Baseball Classic and the Round Rock Classic. The company also sells and manages sponsorship for University athletic departments, including venue signage, game sponsorships, radio and other opportunities.
The partnership is based on one goal: Maryville students gaining real-world experience that will benefit their future careers. "We try to make the tournament experiences as multi-faceted as possible," said Cara Holloway, senior vice president and chief operating officer for Peak Sports MGMT.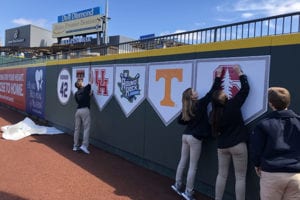 At the tournaments, Maryville students volunteer in the ticket office, help with media and public relations efforts and coordinate sponsorship opportunities like mascot races and promotional giveaways. They also learn about customer service by conducting on-site surveys and managing guest relations.
Maryville students stand out against other collegiate volunteers because of their passion and drive. "They come to the events understanding they are there to work, not just be a fan," Cara said. "They have a different mentality and know it requires all hands on deck to ensure the tournament runs smoothly."
That kind of dedication is crucial to a career in the sports industry, where most professionals attend weekend and evening events in addition to putting in 40-plus hours in the office. In fact, since the partnership began, Peak Sports has hired four Maryville graduates.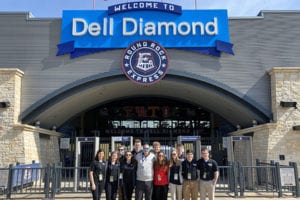 "We really value our relationship with Maryville and are grateful to have such experienced and hard-working individuals on our staff," said Ryan Holloway, president for Peak Sports MGMT. "Maryville lays the groundwork so when they arrive to our team, they are ready to hit the ground running."