In just a year at Maryville University, the connections Clayton Meyer has made as a Rawlings Sport Business Management major landed him a call up to the major leagues.
Meyer, who will be a sophomore this fall, is donning the uniform of the St. Louis Cardinals as one of the team's three bat boys.
"Everything has been great," says Meyer. "I love the job and the workplace. It's very busy, but it's everything I expected."
He applied for the job when he saw the job posting on Facebook. On his application, Meyer received permission to use Jason Williams, director of the Rawlings Sport Business Management Program at Maryville, as a reference.
"My connections I have made at Maryville helped a lot," says Meyer. "In particular, using Jason as a reference. I had a good resume thanks to the sports management program."
Maryville's Rawlings Sport Business Management has created many partnerships with organizations in St. Louis and beyond to offer students hands-on experiences in the world of sports. Students experience differing work environments and develop a network of industry contacts through these partnerships, giving them a competitive edge in the job market.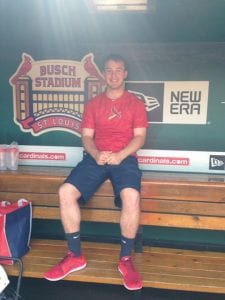 The Cardinals gave Meyer the good news this past February. Since opening day on April 2, he and one other bat boy has been at Busch Stadium four hours before game time. One bat boy is on the field and other works in the back in the clubhouse area during contests.
Meyer's duties include much more than just handing players their bats. Meyer also helps the team unpack after returning to Busch Stadium from road trips, sets up the Gatorade and water for players and umpires, gets the sunflower seed tray ready, organizes the dugout and bullpen after games, cleans equipment and shoes, among a myriad of other duties.
Meyer, who will graduate in 2020, has been a lifelong fan of the Cardinals and hopes this position will be a springboard to move up in the organization after graduation.