On Sept. 19, the tenth anniversary of Maryville Reaches Out, nearly 1,400 volunteers served 108 agencies across the St. Louis community, exceeding those numbers in previous years. MRO 2017 also broke records for volunteer hours, with over 4,000 hours logged, and 679 items donated to O.A.S.I.S. Food Pantry.
Maryville Reaches Out 2017 was led by Kelsie Lemmons, student coordinator, and Kathy Quinn, dean of students.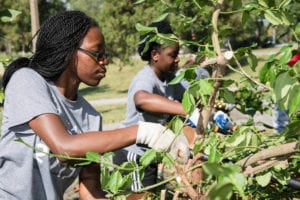 Having an annual volunteer work day speaks to Maryville's commitment to civic engagement, along with involving students in the greater St. Louis area, said Quinn.
"MRO is a day that exemplifies what it means to be 'One Team, One Family' — like our Maryville slogan implies," said Quinn. "It makes me proud to be a member of Saints Nation."
People from various organizations who worked alongside students, faculty and staff said volunteers brought enthusiasm and energy to their projects.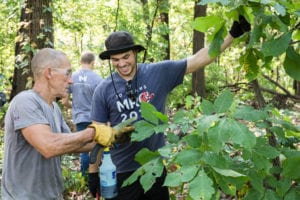 "The volunteers were very outgoing and friendly to those staying at the lodge," said Brittney Haas of the American Cancer Association. "They were here to make a real difference, not to just add something to their resume. It was impressive to see such hard workers."
"All the volunteers were positive and motivated," said Brittany Fleming, shelter manager at Gateway Pet Guardians. "They never backed down from any of the tasks we asked them to do. They were polite and helpful."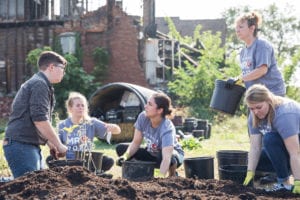 Rebekah Anderson, a senior majoring in psychology and sociology, participated in the Gateway Pet Guardians project. It involved a deep cleaning and reorganization of the shelter, in addition to walking pets.
"Volunteering is an incredible opportunity that fosters interaction, team building and collaboration with others towards a common goal to have a positive impact on others," said Anderson. "I truly enjoy reaching out to others in the community to be able to offer as much as I can to people."