Reading time: 3 minutes
When people sustain a stroke or a head trauma, most often by falling or through motor vehicle accidents, they may experience brain injury that significantly affects their physical or cognitive abilities. As a vocational rehabilitation counselor, Beth Dauber, '09, helps survivors relearn lost skills so they can return to work or begin new careers.
Through the American Rehabilitation Counseling Association (ARCA), industry peers named Dauber the 2016 Rehabilitation Counselor of the Year. The award will be presented during the American Counseling Association's Nation Conference on April 6. Dauber serves as president of the Missouri Rehabilitation Association Eastern Chapter.
"Her work truly exemplifies what a great vocational counselor should be."
"Beth demonstrates the ability, passion and enthusiasm that helps her to make a difference in the lives of the individuals she works with," Karen Klenke, Dauber's supervisor, wrote in her nominating letter for the ARCA award. "Her work truly exemplifies what a great vocational counselor should be."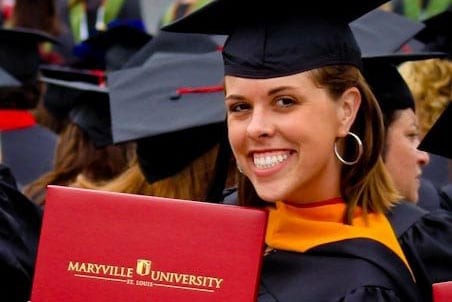 Dauber has worked for the State of Missouri for the past six years, and also serves as an adjunct educator at Maryville University. Her clients include people from a wide range of professions. Working with a team of medical and human resources experts, she helps clients regain skills, update resumes, fill out job applications, prepare for interviews, and practice networking. She also suggests job accommodations for clients, and helps identify assistive technologies, such as modified keyboards and dictation software.
"Assistive technology is so well integrated into our society now that it's no longer like 20 years ago, where someone stood out. It's very dignified," Dauber says. "Things advance so quickly that you have to be on top of what's going on."
Dauber keeps current with industry trends, but has also developed her own, holistic approach to client services. Last year alone, Dauber worked with 46 clients with traumatic brain injury who returned to work or found jobs, and then maintained those positions for at least 90 days. Her success rate is largely due to a pilot project she developed in 2010.
Dauber's project has been rolled into the state's Employment Services Plus program. It emphasizes early intervention while clients are still in rehabilitation, and involves an expanded network of resources.
"While going through the Rehabilitation Counseling program at Maryville, one thing that always made a lot of sense to me was the idea of a holistic/collaborative approach to services for clients," Dauber says. "This was something that I brought with me to my internship and practicum at Mercy's Head Injury Resource Center, as well as my employment with Vocational Rehabilitation. Bringing all the stakeholders together—client, caregivers, CMs, OT/PT/STs, neuropsychologist, counselors, and more—to support the client has proven to have a significant positive impact on the clients I serve, as well as maximizing available resources."
Although Dauber's approach is rooted in her Maryville studies and practicum experiences, she is quick to share credit. "It's not just me, it's the whole team," Dauber says. "It's very collaborative."
Update to this story: Dauber now serves as assistant district supervisor of the St. Louis West Office.