On-campus development studio opens up innovative internship opportunities
In 2019, Maryville game design professor Matt Raithel hoped to place yet another promising student in a paid internship with his game development company, Graphite Lab. But the office was nearly 10 miles from campus. Transportation issues prevented the student from taking advantage of the opportunity.
Roadblocks were the last thing Raithel wanted for students of Maryville's growing game design program. "What we hoped for was to offer more internships more often for more students," Raithel said.
Then came the pandemic. Graphite Lab closed its brick-and-mortar facilities and began functioning as a strictly virtual operation. All internships were conducted online. But as the pandemic eased, Raithel wondered: What if he set up a physical location on campus? Maryville University administration quickly greenlighted the idea. This fall, Graphite Lab opened in Reid Hall, giving students access to innovative internships on campus.
"It's incredibly unique that students can walk down the hallway and see an operating software development company that's producing hits for Atari, Cartoon Network, Hasbro, Disney and other companies of that caliber," Raithel said.
DEVELOP BROAD SKILLS
Maryville provides the space and Graphite Lab provides computers, network infrastructure, furniture and other necessities. Student interns can participate in every phase of game development, including art, music and sound design; programming; storytelling; product management; and quality assurance testing. Their names appear on the list of credits for games they work on, which is attractive to future employers, Raithel said.
"It shows they know not just how to get a grade but how to work in a team, how to hit a deadline, how to troubleshoot and how to get feedback from the team — all on a regular basis," he said.
Developing and troubleshooting games involves collaborating online with others around the country. The beauty of the on-campus location is students also share personal interactions with local Graphite Lab employees, including several Maryville alums, as well as Raithel himself. The skills they hone in this process prepare them for game design careers and beyond. One game design graduate used their skills as an app design consultant for a major retail brand. Others have built augmented and virtual reality experiences for companies like TOMY and Bayer.
"People think, 'Oh, games — you must be working on Mario stuff,'" Raithel said. "But you can apply these skills to tons of different industries."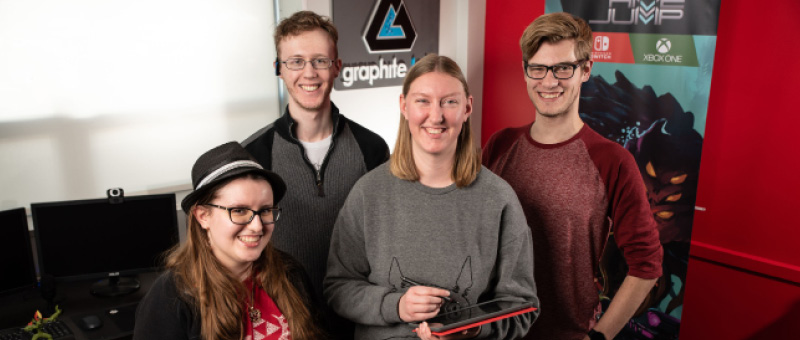 GAIN REAL-WORLD EXPERIENCE
Graphite Lab intern Matthew Sinclair, a fourth-year student, grew up playing video games but never thought he'd work in the field. He came to Maryville as an English major, but after discovering the game design curriculum, he was hooked. Now the working student nearing the end of a six-year graduation plan says he probably would have left college if not for the program. Sinclair said the physical, in-person experience of performing quality assurance for Graphite Lab has helped demystify the world of professional game development.
"I used to wonder, 'What does a game designer do? What tools do they work with? Are they sitting at a corkboard with red strings and sticky notes?'" Sinclair said. "I'm going to come out of this with a solid idea about what I'll be doing in the future that I don't think I would have otherwise." As a commuter student who lives nearly half an hour from campus, Sinclair appreciates having to make just one drive for class and his internship. "It definitely saves me some money on gas," he said.
Fourth-year student Gabrielle Richards also likes the convenience of the on-campus studio. The art designer also enjoys the combination of in-person and remote interaction. "Every Monday we have a team meeting where we might say, 'This is what I worked on last week; this is what I plan to do this week,'" Richards said. "It's fun seeing how a real workday goes."
Raithel hopes having the on-campus location will triple the number of student internships hosted by Graphite Lab this year. But its value goes even beyond increased internships within the borders of the classroom-sized space, he said. It's also helping Maryville create an entire tech corridor, which includes the Rawlings Sport Business Management facilities and Cyber Fusion Center.
"If you pass through Reid Hall while walking from Admissions to the Design and Visual Art building, you can literally see Maryville's commitment to professional experiences with tech and innovation," Raithel said. "I believe having unique access to these active learning opportunities on campus will translate to stronger, more prepared graduates."