Reading time: 5 minutes
Technology has always allowed students to focus on learning the subject or skills at hand in more engaging, efficient and effective ways, says Candace Chambers, PhD, professor of chemistry at Maryville University and recipient of the 2016 Teaching with Technology Award. Today's technology, she says, has the added value of allowing students to tailor their own educations like never before.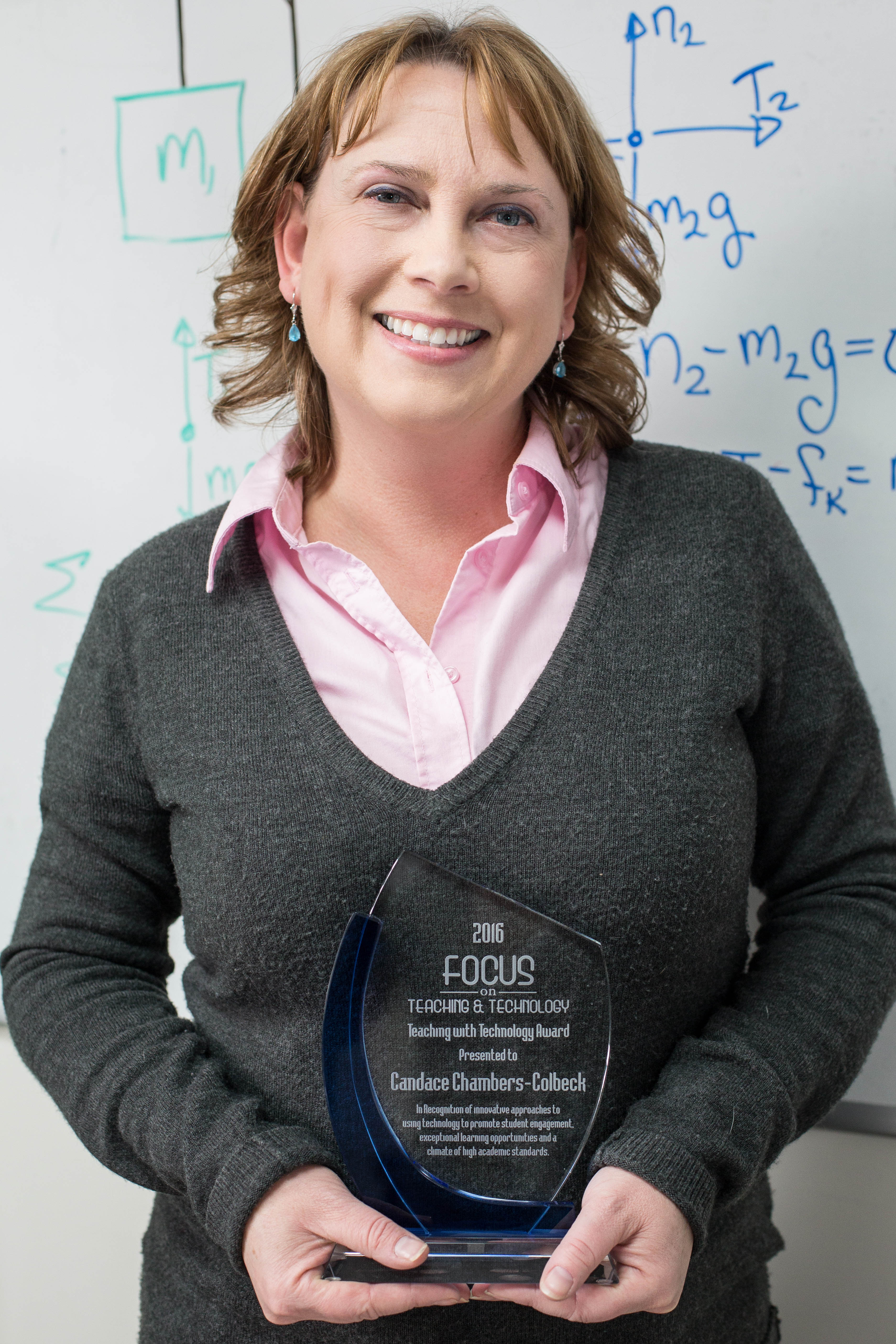 "The average student in my courses now knows more content and skills at significantly greater depth than students that I saw in my courses 10, 15 or even 20 years ago," Chambers says. "They are learning at the leading edge of what many have called a Golden Age of Learning Technology. I don't think we should be asking ourselves 'Why embrace technology?' but rather, 'Why learn without it?"
Chambers received the 2016 Teaching with Technology Award during the Focus on Teaching & Technology regional conference held recently in St. Louis. She was honored for innovative approaches to using technology to promote student engagement, exceptional learning opportunities and a climate of high academic standards.
Since its inception in 2015, Chambers has championed Maryville's Digital World, a teaching and learning initiative that allows students to personalize their education in an enhanced technology environment. The program provides all undergraduate students with iPads and access to more than 80 learning, productivity and other resource apps in the Maryville Cloud.
"Dr. Chambers has become the standard bearer at Maryville University for the thoughtful integration of technology in teaching and learning," Sam Harris, director of learning technology and support for the School of Adult and Online Education, wrote in his nomination letter. "(She) has been fearless in utilization of the iPad in the classroom, often leading her peers through action and experimentation."
Technology has always allowed us to focus more intently on learning, Chambers says. She cites moving from typewriters to word processors and from slide rules to calculators as examples. But even more exciting is the ability to create entirely new learning experiences for students using technology, she says.
"The tools available to students and their professors today allow them to focus their learning more efficiently than ever before — tailoring their daily studies on what they need most," she says. "For example, modern polling technology allows students to rapidly self-assess topics they have mastered and topics where they need additional time. They can then be more efficient in their learning by focusing their attention on selected topics."
Chambers engages students using a variety of apps and other technology resources. For example, she creates videos to help students gain understanding utilizing iMovie, VideosShop, Teleprompter, VideoPhysics and ExplainEverything. Her videos provide access to sample problems 24/7, which means they provide new opportunities to study during hours most convenient to individual schedules.
"I create short videos on topics students aren't likely to find elsewhere on the internet," Chambers says. "For example, at the end of the day, I sometimes make a video based on the most frequently asked question by students based on office hour visits during the day. I also make video responses to student email questions about the homework."
On the course survey, this student comment was representative of most: "There were a few times that I didn't quite understand certain topics and I watched a posted video and it really did help. I was able to grasp the information better and do problems over that topic with ease."
The videos extend discussion beyond class time and students that normally might be too shy to speak in class are engaged through the technology, Chambers says.
Students also point to authenticity as a value-added feature of Chambers' videos. While a lot of great content is already online, there is also a lot of wrong information out there, too, she says. One student acknowledged this in a survey comment: "If the instructor posts (the videos) on Canvas, then you know the concepts in it are correct. If I was to just look online for a video to help me, I may not be able to tell if the concepts in it are correct."
Chambers believes this generation of college students faces increasing demands on their time while pursuing their educations, not the least of which may be a challenging job. Technology, however, allows professors to tap into new ways to address these issues and help students focus on the business of learning.
"I didn't want to take physics without every technological advantage that I could back when I was a student—why should students now settle for anything less?" Chambers says.