Being an actor in a theatrical performance may not sound like an effective way to help people cope with the reality of speech aphasia, a communication disorder caused by brain damage that affects people's ability to think of words and understand them, but performers in the 2017 production of Wizard of Oz proved otherwise.
The Aphasia Communication Theater (ACT), an innovative production implemented last summer by graduate students in Maryville's Speech-Language Pathology program, was designed to improve the speech, language and social rehabilitation of participants.
Suzanne Miller, a client in the Maryville University Speech and Language Clinic, had reservations when she was asked to play the role of Dorothy. Miller, who experienced a stroke four years ago, would not only have to overcome nervousness about performing in front of a live audience, but the damage to her speech, language and executive functioning skills, as well.  Like the other actors, she often has words "on the tip of the tongue" or words that cannot be understood, even when they know what they want to say.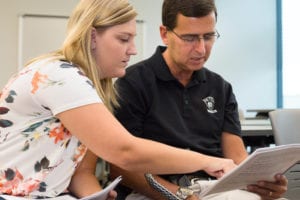 ACT focuses on life participation and celebrating the abilities of the actors. Practices and performances take place in an ability-friendly environment that welcomes all participants and audience members.
For Miller, being a part of Wizard of Oz gave her a sense of empowerment.
"People with speech aphasia are not dumb, but people assume that we are and treat us like we are because we must do things more slowly than the average person. We need patience and understanding," Miller says. "When I spoke my lines on stage, no one got frustrated with how long it took me. I was able to finish my thoughts without someone interrupting me."
RARE OPPORTUNITY
Melanie Schwartz PhD, assistant professor of speech-language pathology, heard about a theater program for people with aphasia during a national conference in November 2016, and she learned only three other institutions in North America have similar programs.
Less than six months later, Schwartz had succeeded in creating ACT for clients in the Maryville Speech and Language Clinic. Clients gave their first performance with the production of Wizard of Oz. The cast was mostly composed of actors who had strokes, brain tumors or cerebral palsy. All of the actors struggle with speech and language in some capacity, and the entire support team was comprised of volunteers.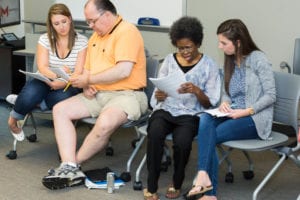 ACT is just one of the ways that the Maryville Speech and Language clinic provides free diagnostic and clinical services to the community. The Clinic is staffed by graduate students in the Speech-Language Pathology program who provide client services under the supervision of faculty and other ASHA-certified speech language pathologists.
Graduate student Amelia Martin served as assistant director for the summer production.
"I accompanied clients on stage and supported them as they said their lines," Martin says. "The most meaningful aspect of being part of this production was seeing our clients grow, not only in their speech and language skills, but through the friendships they made with people who understand and support them."
FINDING PURPOSE
Miller says the play gave her a sense of camaraderie and family.
"A lot of people who have aphasia become very lonely," Miller says. "With aphasia, people retreat within themselves because they cannot communicate. Being in ACT was a remedy for that."
"This play gave us direction," says John Kindschuh, an ACT client who played the role of King of Winged Monkeys. "At times, I have been lacking purpose since my stroke, and this play gave me renewed meaning in my life. It encouraged us that our brain injuries did not rob of us living fully."
"Sitting in the audience, I was able to experience the pride and enthusiasm in the room. I witnessed many tears of joy during the standing ovation," Chuck Gulas, dean of the Walker College of Health Professions, says. "At Maryville, we take great pride in offering innovative programs. ACT has demonstrated our commitment to improving the quality of life for people in our community."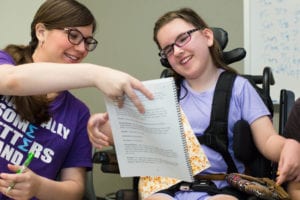 For Schwartz, the goal of ACT has always been to help people with disabilities successfully overcome barriers to achieve a better quality of life.
"The innovative approach Maryville takes to serve this community can be replicated by other speech-language pathology programs with the right resources, imagination and other institutional support," Schwartz says.
"There are patients out there that need help. Through ACT, people like me can actually continue to get better, and that's so important," Miller says.
As a result of ACT, Schwartz was awarded the first Maryville University Spotlight Faculty Award, and the Speech-Language Pathology program received an Outstanding Community Service Award from the Missouri Brain Injury Association.