In high school, Abdul Kenani, '17, began designing logos.
"It was something I loved to do. I guess you'd call it a hobby," he says. "Then I started creating logos for friends and start-ups, but still didn't think I could make a living at it."
Today, Kenani hopes to turn that love into a career thanks to his BFA degree from Maryville University's graphic design program. Capping off his last year at Maryville with two prestigious international awards for his designs should also help.
Kenani grew up in Saudi Arabia and came to the U.S. after high school in 2010, spending his first two years learning the English language. He then attended college in Pennsylvania to study marketing, only to discover it wasn't what he wanted to do. He pursued his passion and found Maryville in 2015.
He thrived on challenges, says one instructor who recalled a time when Kenani's design, a class assignment, was not selected by a client.
"It was a beautiful, geometric work that had so much movement," says Caren Schlossberg-Wood, instructor in graphic design. "It was very professional. But he wasn't going to take no for an answer. I encouraged him and he kept going back, working and reworking."
His tenacity paid off. That logo was one of two selected for LogoLounge10, a publication that showcases expert identity work by notable designers and up-and-coming talents from around the world. His were among 2,500 designs chosen from more than 37,000.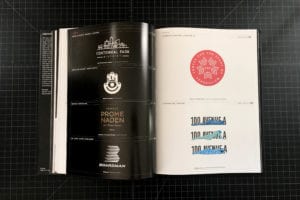 Kenani's second award this year was a gold designation from Graphis, a New York-based international publisher of books on communication design. For its annuals, Graphis selects "the most compelling work of the year" for its platinum and gold awards in graphic design, advertising, photography and art illustration.
"It is an honor to be chosen for the Graphis Logo/Letterhead9 book," says Kenani whose winning logo Hamsa Hand depicted an ancient Middle Eastern amulet symbolizing the hand of God. "The challenge was to find the perfect visual form of the Hamsa Hand, to bring it from ancient to modern without losing the meaning."
Kenani completed his studies in December, and his freelance work keeps him busy. He's working on landing a design job in St. Louis.