Reading time: 3 minutes
Stroke and Parkinson's disease can rob people of mobility, speech and even the enjoyment of food. But Pradip Ghosh, PhD, professor of physical therapy at Maryville University, helps these individuals improve the quality of their lives through groundbreaking research.
Ghosh recently completed phase one of a research project in which individuals with Parkinson's disease participated in yoga postures, pranayama (breathing) and meditation. Once a week for 12 weeks, Ghosh guided 16 participants through the techniques, in connection with a local support group he organized last year. They repeated the exercises every day at home.
Four Maryville students assessed the results, measuring a number of relevant factors, including sleep patterns, stress levels, fatigue levels, balance and overall quality of life, Ghosh said.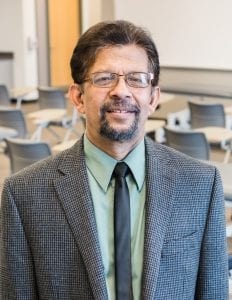 Evaluators found marked improvement in all areas.
"The patient response was marvelous," Ghosh said. "We found that we can use meditation and yoga as an adjunct to traditional forms of physical therapy."
Positive Results for People with Parkinson's Disease
Lenora Copenhaver was among the participants. Her Parkinson's disease affected her ability to chew and swallow, and she was no longer able to eat solid food.
Ghosh emphasized a breathing technique in which participants make sounds while exhaling, a process that uses numerous muscles involved in eating. During the course of the research, Copenhaver experienced significant improvement.
"Now I can have fish and chicken, not just soup," Copenhaver said. "I can enjoy going out to eat again."
Copenhaver appreciates another benefit of the sessions: better sleep. She used to wake up several times every night. Then she began practicing yoga breathing before bedtime.
"Now, before I know it, I'm asleep," she said. "And I sleep like a baby."
Jagan Ailinani, MD, a radiology doctor who lives in Carbondale, Ill., is also among the Parkinson's disease patients in the research study. He, too, is enjoying better sleep, along with other benefits.
"I feel more calm and my balance has improved," Ailinani said. "Life is better."
Individuals with Stroke Gain Independence
In another area of research, Ghosh is helping individuals with stroke to regain their mobility and independence.
To walk properly, each knee and ankle must work in a certain sequence, Ghosh said. People who have experienced stroke find it difficult to initiate and maintain these steps in order.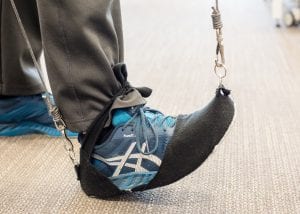 Normally, a physical therapist must manipulate a patient's knees and ankles to help him or her learn to walk gain. But Ghosh has developed a sling for patients to wear, allowing the therapist to assist and guide their leg movements with less effort from a short distance away, by pulling a set of strings.
One individual with normal arm movement learned to operate the strings himself. Everyone in the cohort of eight demonstrated measurable success. Ghosh presented this research before the 4th European Region of World Confederation of Physical Therapy in Liverpool last November.
"Patients tell me they feel they are walking better and they feel more safe while walking," Ghosh said.
Ghosh's work brings him personal satisfaction, especially when individuals with stroke or Parkinson's disease, or their family members, tell him how much different they feel after using new intervention techniques.
"When people say their life has changed, I feel good," Ghosh said. "It's very rewarding."