Reading time: 7 minutes
Seventy percent of people with disabilities who want a job are unemployed. It's a staggering number and a situation that prevents the majority of this population from achieving their full potential.
A St. Louis professional partnership, Inclusion Coalition for Employment of Metropolitan St. Louis (ICE), aims to create and promote jobs for people with developmental disabilities and help them achieve greater independence.
Through ICE, professionals who work to find jobs for people with developmental disabilities meet regularly to share information. One professional might know of an opening but their particular agency doesn't have an individual whose skills match the job. Letting other agencies know about the position can lead to a win-win for clients, agencies and businesses.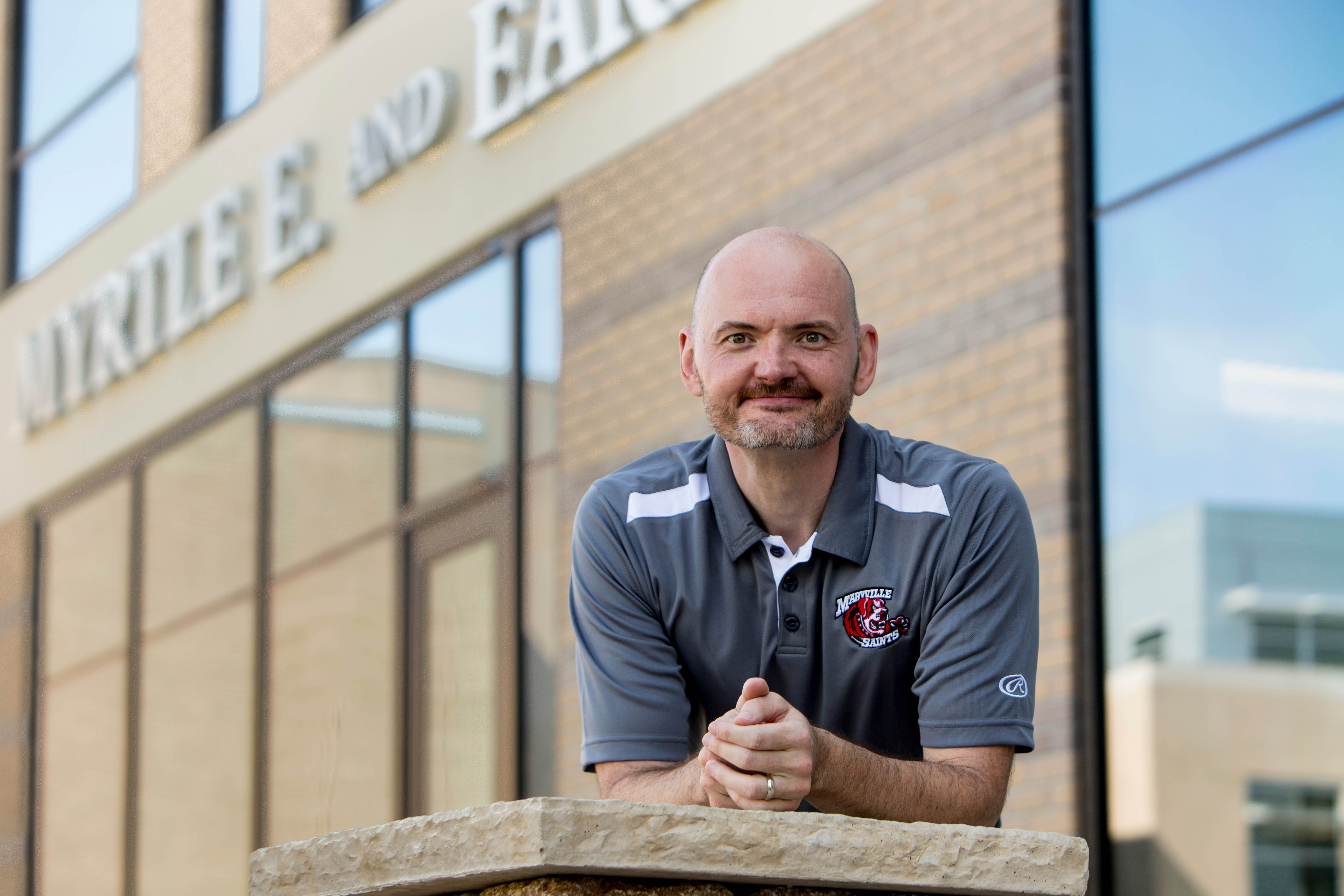 Michael Kiener, PhD, ICE member and director of the rehabilitation counseling program at Maryville, says ICE replaces competition with collaboration.
"Before ICE, agencies were more protective of their employer contacts and less willing to share employment leads," Kiener says. "Now, because of this coalition, we're looking at the greater good: helping people with disabilities secure employment, which is a major path to independence."
"Because of this coalition, we're looking at the greater good: helping people with disabilities secure employment, which is a major path to independence."
The agencies — including St. Louis ARC, the Center for Head Injury Services, United Cerebral Palsy and the Productive Living Board — serve people with many diagnoses, including those on the autism spectrum, people who live with traumatic brain injury and people with Down syndrome.
ICE members foster much more than just a one-time connection for people they serve; rather, it's often a long-term commitment. "It's more than just finding a job for an individual," Kiener says. "The goal is to help individuals discover a career. I call it a career lifespan approach."
Partnership Creates Jobs
Maryville's Rehabilitation Counseling program partners with ICE to provide training for newly hired job coaches and job developers as well as professional development for seasoned employees.
"Employers need to realize it's not charity when they hire an individual with a disability," Kiener says. "It's really about identifying the right person for the job and improving a company's bottom line."
Hiring people with developmental disabilities contributes to a business's success in a number of ways, says Valerie Hill, project manager for the Center for Head Injury's Talent Connect program.
"Hiring a qualified person with a disability brings greater benefits beyond just filling an open job. There's a solid business case, too," Hill says.
Employers get a tax credit, but there's much more to it. Hill and others make sure their clients are a good fit for a particular job. Because of that, along with the loyal tendencies of this population, workers tend to stay with a company; therefore, businesses don't spend money training new people over and over again for the same position.
That's something Adriana Borojevic, human resource generalist with Watlow, a thermal solutions and products company, knows firsthand.
"At first, it was a fear of the unknown," Borojevic says. "We didn't really know or understand what it was like to employ someone with a developmental disability."
A person with a disability may need more time to process information, or individuals may require concrete explanations about the details of jobs, ranging from sorting mail to assembling machinery. For a company, success means crafting the initial training to meet their individual needs. It also means educating managers.
Before Watlow hired their clients, Hill and others with the Center for Head Injuries visited the company to allay management concerns. They observed, and they asked questions about what the jobs entailed so they could identify well-matched candidates, provide them with job coaching and demystify the process for managers.
Soon after, two clients of the Center began assembling heaters and other equipment, as a temporary assignment. After only a few months, they'd proven their worth.
"They did an exceptional job," Borojevic says. "We ended up hiring them full-time. Here we are two years later and they're still at Watlow."
In a hiring capacity, the company has progressed, too; Watlow was named the 2016 Employer of the Year by the Missouri Rehabilitation Association – Eastern Chapter (MRA). Watlow was recognized for making a significant difference in advancing the employment opportunities of individuals with disabilities.
Jobs are Life-Changing
Having employment is life-changing for all people, regardless of a disability, says Kiener.
"It's amazing when you hear people tell you, 'I'm able to pay bills for the first time,'" he says. "Employment is an avenue for greater inclusion in society. Having an income provides independence and freedom to make individual choices. If you want to buy a new pair of shoes, you can buy a new pair of shoes. It also gives people with disabilities an opportunity to engage in a full range of social activities with friends."
Kiener has opened a path to employment for people with developmental disabilities on Maryville's campus. Clients from several agencies volunteer in the bookstore. Mary Montani, who is sponsored by St. Louis ARC, is anxious to learn the skills needed to start earning a paycheck.
"I want to get paid for working," says the 21-year-old. "This position is helping me being proactive because if I wasn't here, I would be sitting on the couch doing nothing." Montani is primarily tasked with organizing apparel on the sale racks and shelves, stocking food and beverage coolers and folding clothes.
"Mary is a very organized person. I think she's a perfectionist at heart," says Kate Ritter, manager of the Bookstore. "We enjoy working with her. One of her best traits is that she a self-motivated worker, she will always try to find something to do."
Montani has previously worked at St. Vincent DePaul Thrift Store and SSM Health DePaul Hospital. Employment specialist Kathie Winston says Montani has specific goals to meet in her role at Maryville — such as developing social skills, demonstrating endurance, and learning soft skills like taking direction and showing initiative — as she works toward a paid position.
The ICE program can also be a route to employment for Maryville students and graduates. The relationships formed through ICE lead to internship and practicum opportunities for those interested in working with people who have developmental disabilities. These temporary positions create connections and can lead to job offers after graduation.
"ICE also keeps graduates in the field connected to Maryville when they attend meetings as professionals," says Kiener. "And it keeps Maryville's name in the conversation among developmental disabilities professionals. Ultimately, it's one more important way the University engages in the St. Louis area."
This story also featured in the Fall 2016 edition of Maryville Magazine.