From a nature reserve to the offices of a marketing agency to the Pantheon in Rome, students across academic disciplines are exploring these important spaces up close and often with tour guides—even if the students are located 10, 50 or thousands of miles away from the sites.
Using high-end technology such as Oculus Rift headsets and Google Cardboard, along with 360-degree photographs and video, faculty across academic programs are excited about the learning potential of the virtual reality (VR) devices.
DISCOVERING NATURE IN ALL SEASONS
For Kyra Krakos, PhD, professor of biology, the VR video she created featuring Shaw Nature Reserve in Franklin County, Mo., largely solves matters of timing. "Students experience a different world when they put on their headsets and actively engage on a 'field trip,'" she says. "We have the resources. We could take a field trip, but it's hard to teach botany in March in St. Louis. There's nothing growing out there."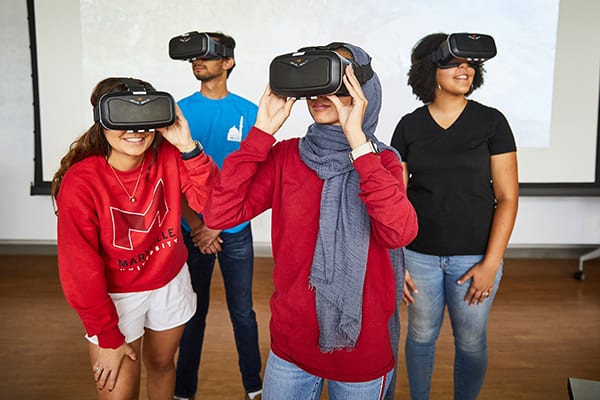 With the help of her students, Krakos created a VR video of their research at the nature reserve. "We stitched together six locations across several weeks this summer so you can walk through Shaw and see it change through time, or compare plant growth from May to August," she says. "Basically, it means I can teach living ecology in a classroom any time of year."
Students in Krakos's lab contributed two-minute videos describing their research in the spot where it was collected, photographs of themselves in action, images of plants up close and research posters, all of which are embedded in the video as clickable matter that provides more in-depth information. Deanna Deterding, biology major, is excited to share her research through the VR experience.
"The most gratifying part of this project was knowing that I would be helping to educate students in classrooms that don't have the ability to do research at a nature reserve," Deterding says. Shelby Whaley, '18, also worked on the Shaw video project. She's planning to attend graduate school next fall to study ecological restoration and management. "I think VR videos are a great way to include external content. Some aspects of a subject are just not available or possible to comprehend without seeing it," Whaley says.
EXPLORING THE PANTHEON
Todd Brenningmeyer, PhD, professor of art history, created a 360-degree video for his World Arts and Ideas course so students can explore Rome's ancient Pantheon in more personal and detailed ways.<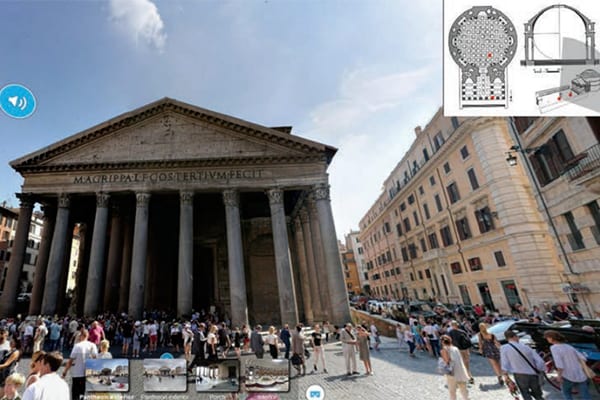 "The idea is to allow students to interact with a space as if they were there, much like we do in our study abroad classes," he says. "When you visit the Pantheon, you're walking around, looking at the columns, you're in the space," he says. Typically, an instructor will show students images—slides or photo-graphs—of the outside of the Pantheon and of the dome on the inside, but students aren't fully engaged in that experience, Brenningmeyer says.
"We've created a way for them to explore the whole exterior of the Pantheon, then gradually make their way inside, looking around and above them as they walk," he says. "This is how you want to experience it; you want to be feeling the space." Brenningmeyer embeds audio links in his videos, so students who are interested in a particular feature can learn more about it. "The audio talks about where they are, just like I would do if we were on site and taking an actual tour of the building," he says.
Using his library of VR videos, students can explore 20 other important historical sites, such as the Colosseum, Stonehenge, the Egyptian pyramids, an Etruscan cemetery and the Terracotta Army.
TOURING FUTURE WORK SPACES
"For communication majors, their favorite experiential learning opportunities are agency tours," York says. "We decided it would be cool to create a VR collection of tours for the benefit of students who can't join us, but who are curious about the office spaces."
Every semester, Dustin York, EdD, director of the communication program and assistant professor, introduces a class project to explore an emerging technology. There are no step-by-step instructions provided—students collaborate in small groups to learn the skill. Last spring, York's students created an Alexa app and previously designed a Snapchat filter. This semester, his students are creating a VR video featuring a tour of Abstrakt marketing agency's downtown St. Louis offices.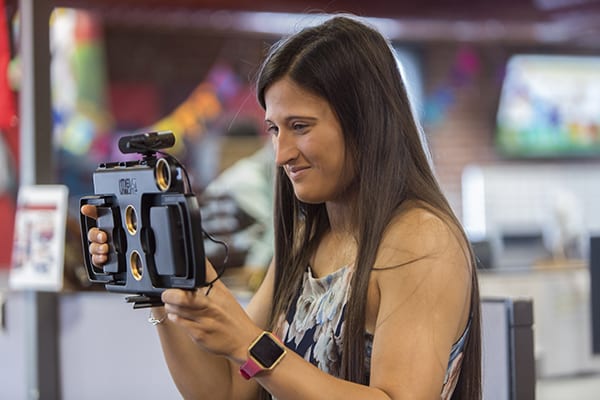 The learning outcomes are two-fold, York says. Primarily, the knowledge gained puts his students one step ahead of other job candidates. "Two years ago, we studied drones. Afterward, one of our students got an internship with TedX because he knew how to fly drones and no one else did. It's the same with this project. Virtual reality is only going to become more widespread, and my students will be at the edge of that," he says.
Additionally, he says, "In two years, there will be some new technology we can't fathom right now, and my students will feel more confident taking that on because they will have already experienced mastering an unfamiliar technology."
This story originally appeared in the Fall 2018 issue of Maryville Magazine.