One through 11. Each number represents a position from goalkeeper to striker on a soccer team.
Current members of the women's soccer program at Maryville University are trying to shine a light on a different set of numbers – the digits on the back of jerseys – to highlight the history of the club.
"We realized we didn't know any history about the Maryville Saints soccer program and wanted that to change," says Kaley Ruff, who will be a junior midfielder for the Saints during the 2017 campaign. "We thought there was no one better to ask than the girls who had previously been in our shoes. We knew their stories would give meaning to our jerseys and inspire us to be the best versions of ourselves."
These accounts are being compiled into a book which will highlight each player who played for Maryville and the reason they picked their jersey number.
"It is a great honor to put on a Maryville University soccer jersey," says Allison Verville, who will also be a junior midfielder during the next soccer season. "In order to fully appreciate that honor, we think it is important to have some knowledge of who wore the jersey before you, sweating in it and giving everything they had. This is why remembering the history of past players is important for the program. It gives players the chance to continue traditions and discover the legacy of those that came before them."
Defender/midfielder Montana Krause has also been instrumental in putting the book together.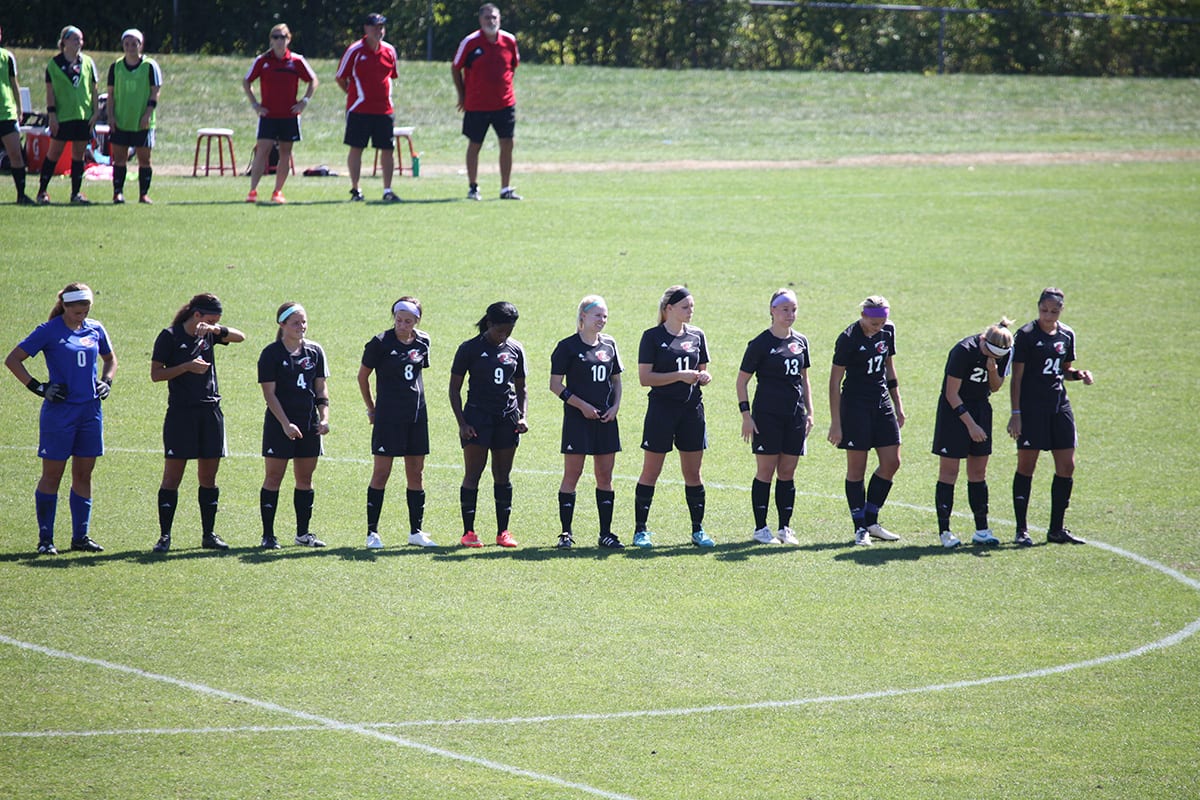 The book is still in progress with the authors having received several replies from alumnae so far. The team expects the book to be completed before the season begins this fall.
"Lori (assistant coach), myself, and the rest of the team are very proud and excited that they came up with this idea, and that they are spearheading the efforts to put this project together," says Maryville coach Eric Delabar.
Once the book is finished, each player will receive a copy that will include letters from past players who wore the same jersey number.
"We believe that you have to know where you came from to get to where you are going," says Verville. "Our goal is to build on the foundation that alumni have built for us in the past."
Another plus for the book is it will be continuously updated every season with thoughts from players who will be retiring from the program.
"Years from now, these books will be extremely powerful and will continue to include more and more wisdom from past players as they are passed down through the years," says Verville. "This is a tradition that my classmates and I started, and we hope it helps to continue the success of this program long after we are gone."
Verville wears 7, famously worn by international soccer star Cristiano Ronaldo. England's soccer sensation David Beckham also wore 7.
"Some of the greatest players in the world have chosen to play in a jersey with a number 7 on the back," says Verville. "I have had this number for as long as I can remember, and it means a lot to me."
Ruff wears 24 as it has been her only number since she was nine.
"I have been 24 forever, so it was a no brainer to wear it again in college," says Ruff. "I didn't choose 24. It chose me, and I've worn it with pride since I was nine years old."
Just two numbers which tell a story of the players who are entwined with Maryville's soccer team.
"Our hope is that, one day, putting on the Maryville jersey will be a meaningful event and that the player wearing the jersey plays for the past, present and future of the program rather than just for herself," says Ruff.