There is much news to report from the Walker Scottish Rite Clinic, a program of Maryville University.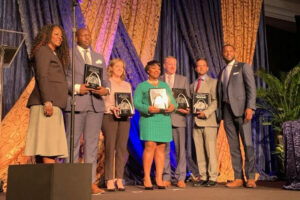 The Walker Clinic recently opened a satellite location in The Hub, a community resource center for residents in the Jeff-Vander-Lou neighborhood. In September, St. Louis Mayor Tishaura O. Jones presented the Quality of Life Award to the Walker Clinic as one of the first four tenants in the building. The award honors those who demonstrate vision and leadership in expanding economic development within the City of St. Louis. "We are thrilled to be a part of this new resource so we can offer much-needed services to people in the surrounding neighborhoods," said Jacob Gutshall, MHS, CCC-SLP, director of the Walker Scottish Rite Clinic.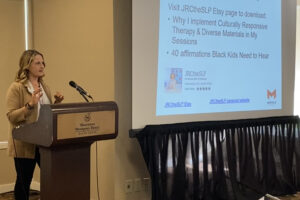 Additionally, the Scottish Rite's National Children's Language & Literacy Conference was held in St. Louis on September 28–30, 2022, hosted by the Walker Scottish Rite Clinic and Maryville University along with the Scottish Rite Foundation of Missouri and The LIGHT Foundation. The national convention was a first time gathering of specialists from both the speech-language clinics and dyslexia centers around the nation. The gathering was considered vital to advancing speech, language and literacy development through sharing breakthrough programs presented by a wide variety of cutting-edge experts.
"We were honored to present the 2022 conference in St. Louis, a region long known for outstanding hearing and speech programs," Gutshall said. "Raising awareness about the importance of early intervention and discussing successful strategies, that can be utilized both in-person and virtually, are key to our positive impact in changing children's lives."
During the pandemic, the Walker Clinic hosted monthly virtual meetings so that therapists across the country could participate in sharing "tips and tricks" that had been tested and implemented. In doing so, Maryville became known nationally as thought leaders in the speech and language development field.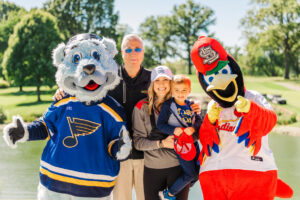 The conference kicked off with the annual Puttin' for the Kids fundraiser for the Walker Clinic. The event was held at Bogey Hills Country Club with Tom Ackerman of KMOX serving as Honorary Chair. He was joined by St. Louis favorite friends, Louie, Fredbird and members of the St. Louis Blue Crew, to greet participants.One hundred percent of proceeds from the tournament benefit the Walker Clinic. This year, 27 teams participated and $27,000 was raised to help fund scholarships for children and families to receive the care that they need.
Mark your calendars for KidTalk Celebration 2022: Somewhere Over the Rainbow. The event will take place November 11, 2022, featuring entertainment by the one-and-only Brian Owens. Dinner, open bar and live and silent auction will be part of the exciting evening. Rainbow cocktail attire is suggested. For more information, contact kidtalk@maryville.edu.