Reading time: 2 minutes
"The Tunnel of Consciousness: A Call to Action," an exhibit focused on contemporary social justice issues, was held on the Maryville University campus during the week of Oct. 17. More than 750 people walked through the exhibit, which was designed as an "immersion" experience.
The Tunnel of Consciousness, which supports diversity and inclusion as a core value of Maryville and as a component of the University's strategic plan, is now in its seventh year as a signature program of the Division of Student Success.
"The Tunnel of Consciousness provides an opportunity for students to recognize and better understand privilege, power and oppression in its many forms," says Jen McCluskey, PhD, vice president for student success. "The Tunnel experience has served as a powerful venue for students coming from a variety of backgrounds to discuss these important and sometimes difficult topics."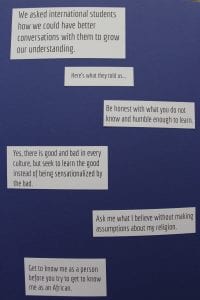 Topics such as religion, race, gender, ability, class and LGBTQ are explored through news articles, photographs, videos of Maryville students sharing personal stories and interactive displays, among other resources. It is anticipated that people who engage in the Tunnel of Consciousness will gain a sense of what it's like to be discriminated against and be able to recognize privilege and oppression in its many forms, demonstrate cultural sensitivity, understand equal opportunity and create a personal action plan to work toward social justice.
On open boards stationed as at the exit, participants were asked to volunteer their reactions to the Tunnel of Consciousness exhibit in one word. Responses ranged from "shocked," "irate," "disgusted" and "sad" to "enlightened," "informed," "privileged" and "hopeful (that we can do better."
The Tunnel of Consciousness concept originated at Western Illinois University in Macomb, Ill., and is modeled after the Museum of Tolerance in Los Angeles, Calif. Maryville's Tunnel is constructed and created by staff, faculty and students, and is intended to speak to the campus community, McCluskey says.
"Over the years, as laws change, as issues arise, the content is kept relevant and up-to-date," McCluskey says. "We want to ensure the messages are current to the issues of the here and now."