When Rockwood Superintendent Eric Knost, EdD, walks into a district school building, he can assess quickly if education is happening the way it should.
"You can see whether the kids are acting in a positive, respectful manner," Knost says. "You can tell whether the kids feel comfortable and safe. You can see how kids feel about their school and the learning environment."
Those conditions are strongly evident at Rockwood Summit High School, Knost says, largely because of Renee Trotier, EdD, '15, who is Missouri's 2017 High School Principal of the Year.
"You know precisely who is running the show," Knost says. "I don't mean that in an authoritarian way. I mean having high expectations and good relationships."
Trotier, who earned her doctorate in educational leadership at Maryville University, says Summit's supportive culture and climate are no accident.
Back in 2014-15, a few years after she became principal, she realized the school needed to take a fresh look at where it was going. Its decade-old mission and vision statements were outdated, she says.
"They really weren't part of the school's culture," Trotier says. "It was just words on a piece of paper. We wanted to have a really shared vision, so that we would all have the same concepts and ideas about what an ideal school would be."
It took a full year, but Trotier says the resulting theme — "One Summit. One Legacy. Inspiring Excellence." — sums up what a school should be all about: community, connections, leadership by students and adults, strong academics, social and emotional learning and an environment where everyone feels safe physically and feels comfortable taking risks.
And Trotier says that with 1,300 students, Summit is the perfect size — large enough to provide a variety of experiences and classes, yet small enough that individual students don't get lost. In such an atmosphere, if the principal knows your name it's not necessarily because you've attracted negative attention.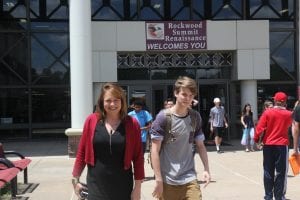 "They know the adults care about them," she says of the students at Summit. "In a larger school, kids would pass you in the halls and not even look at you. Here, I never walk from the school to my car without kids offering to carry something or open a door for me."
The annual Principal of the Year competition is hosted by the Missouri Association of Secondary School Principals. Phil Lewis, executive director of the organization, says Trotier's relationships with the students, teachers and parents at Summit exemplify what a good principal is all about.
"She has fostered an environment where kids are more involved in their own education and that builds a school community," Lewis says. "When you see a principal talking to a teacher, a principal in the hallway, a principal who come up to kids and talks about the activity they were in last night — an assembly, a football game, a robotics competition — that shows that they have a better atmosphere to learn in."
This fall, Trotier will represent Missouri in the national Secondary Principal of the Year competition. But in the area that Summit serves, she is already a winner.