Though sustainability efforts are common practice on college campuses around the country, few efforts show the direct result of what recycling can do.
But throughout the month of October, Maryville is helping demonstrate the true impact of recycling plastic bags and wraps by participating in the Bags2Bench Tour. The University is one of nine local colleges participating in the program.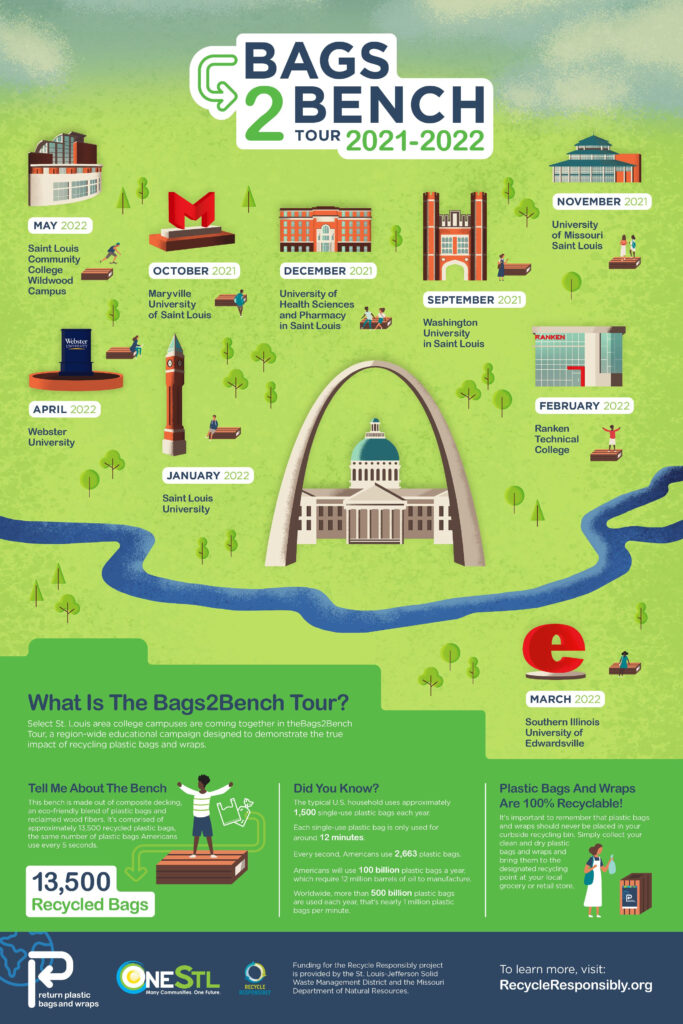 The Bags2Bench Tour features a traveling bench made out of approximately 13,500 recycled plastic bags and reclaimed wood fibers. The bench is displayed on the Maryville campus at the entrance to the University Library, in front of Starbucks.
Why the focus on plastic bags and wraps? When not recycled properly, plastic bags and wraps pose a triple-threat at recycling centers. They get tangled with other recycled items, diverting good recyclable items to the landfill. They also jam sorting equipment, causing downtime and even complete plant shutdowns. Lastly, they create dangerous conditions for workers as they perform unnecessary maintenance.
Remember, plastic bags and wraps should never be placed in your curbside recycling bin. Simply collect your clean and dry plastic bags and wraps and bring them to the designated recycling point at your local grocery or retail store.
The Bags2Bench Tour is sponsored by OneSTL, a collaboration of individuals and organizations from across the St. Louis region working together to create a more sustainable future. To learn more, visit RecycleResponsibly.org.