As often happens, a Work Study job on campus turns into a learning opportunity and a chance to beef up one's resume, or in April Huber's case, her portfolio. She'll graduate with more than her graphic design capstone project to demonstrate her skills—she'll have the Big Red M Box.
The box contains exclusive, branded Maryville gear and will be available as a series for current students, prospective students and alumni. The slogan is "Experience Maryville's Tradition, Pride and Spirit." The idea for such a box was sparked by Nina Caldwell, EdD, vice president for student life.
Caldwell passed her vision on to two administrators of the M Store — Adrienne Jackson, retail innovation specialist, and Laura Stevens, director of auxiliary operations — for further development. In turn, they approached Huber.
Their Work Study student was more than happy to take the lead on bringing Caldwell's concept to life. "At the M Store, student employees are encouraged to step up and take ownership of everything in the store, including projects like the Big Red M Box," Huber says.
Huber, who is now a senior, began working with the M Store as a first-year graphic design student. "April is a very talented young woman, and we have been so fortunate to watch her develop into a lead position in the M Store," Stevens says.
Huber's favorite element is a printed card that details what's in the box on one side and a "Did You Know?" on the other, which explains the tradition behind the Big Red M logo, the name change for Maryville athletics teams from the Brewers to the Saints in 1979 and the annual alumni meeting that eventually led to the University's first Homecoming festivities.
"I think it helps to know your roots," says Huber. "I worked with Emma Prince, Maryville's archivist, to research the history. Most people have no idea what's led to the exciting University we enjoy today."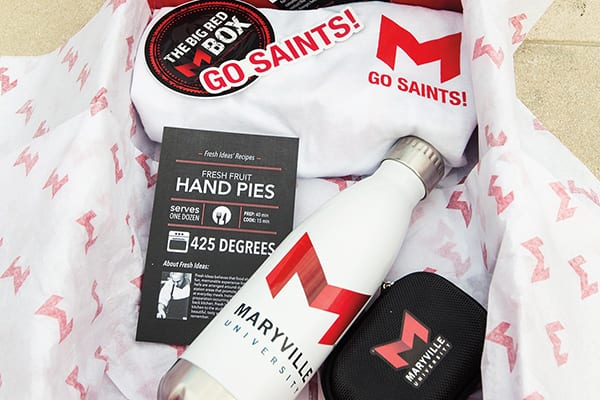 From there, Huber was inspired. She led the design of the box and its logo. A focus group of students chose items for the first box in the series: a double-walled stainless-steel water bottle, a tech case that comes with device charging cords, a T-shirt and a logo-engraved keychain.
Huber's experience as a graphic design student fueled her vision for the box. This past summer, she began an internship at the St. Louis design firm of Stephens Creative, where she still works while also maintaining her part-time job with the M Store. "My internship is a wonderful fit that provides me with invaluable opportunities to do what I love best, which is working with great people to find solutions to problems by providing a full design experience," Huber says.
Huber has also taken on pro bono work, with the help of graphic design instructor Caren Schlossberg-Wood. "She introduced me to a nonprofit organization called MetroWest Firefighters Community Outreach as part of a class project," she says. "They serve the community through charitable giving, like shoe and clothing drives and distributing defibrillators. They needed a primary logo design, and I was honored to have the opportunity to help them."
Huber is now busy with the capstone project she needs to complete her BFA. Her project is designing a restaurant with four rooms, each featuring a different musical genre. Every detail of every room, from menus to color choices, will incorporate the genre. "It's not just a matter of playing different music in each room—it's a whole experience," she says.
Enhancing the entrepreneurial spirit she demonstrated with the Big Red M Box project, Huber says her guiding principle is to "do good work for good people."
This story originally appeared in the Fall 2018 issue of Maryville Magazine.