Reading time: 3 minutes
Adam Long, '93, adjunct instructor of foundational drawing in the Art & Design program, creates award-winning art that continues a series he began as an undergraduate student at Maryville.
Most recently, Long won the Best of Show for 3D Art award for his sculptures at the Spring Art Fair at Queeny Park. Hosted by the Greater St. Louis Art Association, the event is known for attracting quality artists from around the country. Among the more than 60 three-dimensional artists entered in the show, Long was awarded the top prize, which includes free entry into the next exhibition held during Labor Day Weekend and a cash prize.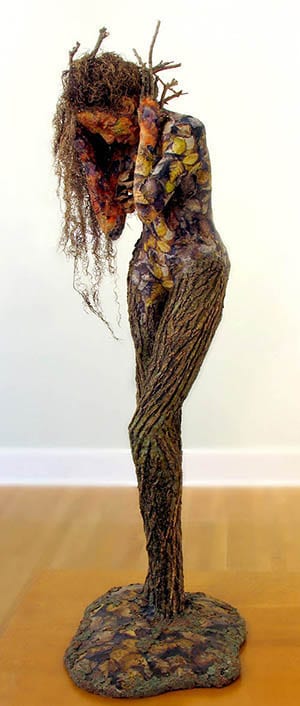 Of the 20 or so sculptures Long entered, the judges were fascinated by one piece in particular, Mourning Moss. If that sounds familiar, it's because the piece was featured in an alumni exhibit held several years ago in Maryville's Morton J. May Foundation Gallery
Long's art reflects his appreciation for nature. "My work explores humankind's connection to the natural world around us through experiential paths, scientific discoveries and environmentally conscious themes," he says.
His Forest Figures began while he was an undergraduate student at Maryville. "I was creating a figure sculpture for a course taught by John Baltrushunas called Teaching Art in the Classroom," says Long. "Since this was a course for the education portion of my BA in art education and not one of my art classes, I didn't really have a goal in mind for the piece. It was just something to churn out."
Sometimes those "anything goes" moments open the door to extra creativity, according to Long. His inspirations come from many sources, including materials found in his own backyard, as well as recyclables. "I took a bag of pine bark I had picked up out of the backyard of my mother's home and started gluing it on the twisted human figure on a whim," says Long. "I had previously been interested in combining natural forms with human anatomy, but never to this degree."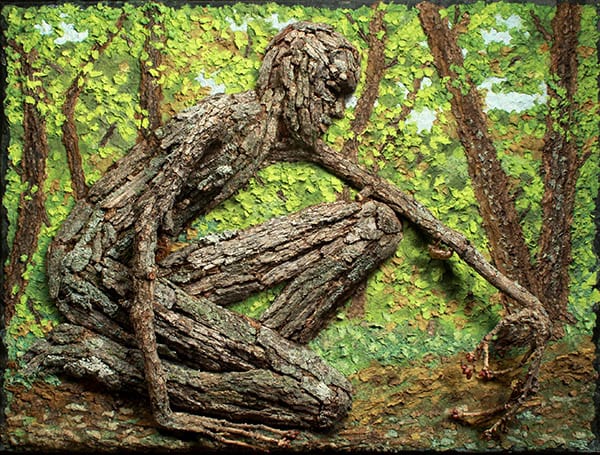 With this artwork, Long experienced a "wow moment."
"The piece was magical, energetic and exciting," he says. "I consider it very primitive by my standards today, but it was the sculpture that started me down the visual and conceptual path I have explored for many years."
Long was honored to receive an award during the Queeny Park art fair. "The artists exhibiting from around the country were first selected by jury just to be in the show," says Long. "To then be selected the 'Best in 3D' was fantastic. I was competing against very talented and creative artists." He hopes to use the prize to expand the reach of his art around the country.