Reading time: 4 minutes
As the owner of VietNam Style in St. Louis, Thao Truong, '15, shares her culture and love for authentic cooking with patrons. During a recent visit, Truong, who opened her restaurant in the past year, talked with Maryville students about her experiences.
Thao Truong's career path took a few twists before she found her calling. The young entrepreneur, who immigrated to the U.S. eight years ago, discovered she enjoyed engaging with people while she was majoring in actuarial science and participating in the Work Study program. For three years, Truong worked in Maryville's international admissions office, helping students bridge communication and resource gaps, navigate the federal visa process and complete paperwork.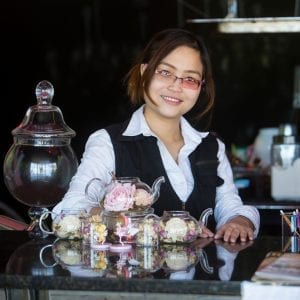 "I love to interact with people," she says. "Until I talked to a lot of international students, I didn't realize I enjoyed it that much. But I had so much homework to do, I quit the job."
Ultimately, she missed the work and began rethinking her career plans. She is excellent in math, but a job focused on that ability wasn't going to be enough to make her happy, Truong says.
"[Actuarial science] is not something I could wake up and do every morning," she says.
After much soul searching and discussion with her parents and her boyfriend, Huan Vu — who is now her husband and restaurant co-owner — Truong decided on a new direction. She enrolled in Maryville's MBA program because, she says, "an MBA holds the keys to open any door."
About the same time, she realized her passion: cooking. In the past year, Truong opened VietNam Style in the Loop area of University City, Mo. Her MBA studies are now on hold, but Truong learns on the job every day.
To honor her Maryville experience, and to help pave the way for upcoming entrepreneurs, Truong invited Maryville students to visit VietNam Style and explore their collective journeys.
Inspiring the Next Generation
"Thao's drive continues to resonate with me," says Christina Isaiah, an interactive design major. "As a minority woman, I understand opening a business is no small task. She took a risk in her life and succeeded. Many people cannot say that."
Truong's restaurant is in a corner building with large windows overlooking a busy sidewalk. The dominant colors are bright green, black and pink — pink being her favorite color, even down to her eyeglasses.
"Hearing Thao's story and seeing the result of her hard work makes me dream bigger," says Isaiah. "Sitting in her restaurant made me believe I could open my own business and invite Maryville students to my work."
Ulices Zuniga, an education major, wants to teach, but he also imagines himself as the owner of an automotive performance shop.
"I really paid close attention when Thao talked about her business," he says. "She was able to start something different and promote it."
Building Cultural Awareness
During her Maryville years, Truong was keenly aware of diversity issues and enjoyed opportunities to share her Vietnamese culture with other students through Maryville Cultures Connect, an organization comprised of international students.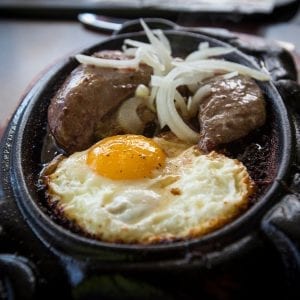 Zuniga, president of the Latino Student Alliance, and Isaiah, president of the Inclusion at Maryville student group, are both dedicated to creating a more inclusive campus environment.
"I felt a huge connection with Thao because when she talked about her time as a Maryville student, she was trying to do what I've been doing ever since I have been at Maryville, and that is educating others on my own culture," says Zuniga.
Isaiah, who changed majors from psychology to interactive design in pursuit of her passion for art, appreciates Thao's decision to follow her heart.
"I felt as if Thao could be me or I could be her," Isaiah says. "Her story is inspirational and motivational."
Thao was equally impressed with her visitors.
"They are very self-motivated and strong leaders," Truong says. "They know what they want. But they also care about other students — they talked a lot about what they can do for them as part of their student groups — and that was impressive."
This article first appeared in the Spring 2017 edition of Maryville Magazine.