In March, as the number of known coronavirus cases increased in the St. Louis area, Mercy Hospital St. Louis opened an outdoor triage space near the main emergency room entrance to immediately provide help for those who thought they might have COVID-19.
Adenike "Nikki" Adegboye was part of the team that quickly assessed these patients and routed them inside the hospital via a special entrance if they were ill. The team ensured any COVID-19 cases were screened before they went inside the hospital and potentially infected other people.
Because of the sudden influx of patients, physicians from other specialties were needed to help staff the triage tents alongside ER physicians. Adegboye used her physician support expertise to ensure all providers working the tents were using the hospital's electronic health records system correctly.
But most days, it was all hands on deck for the team to assess the high number of patients, and Adegboye stepped up to meet the need. "I would help take vital signs and if patients were anxious, I would talk to them and help calm them down," she said. "I also helped clean everything in between patients. I know some of my co-workers were nervous because COVID-19 was so new to us, but I was excited to help. I didn't think twice about doing whatever was needed."
Adegboye has decades of experience in the health care field and is currently earning her bachelor's degree in nursing through Maryville's Evening and Weekend Program. After graduation, she plans to work as a critical care nurse and hopes to secure a position in the ER.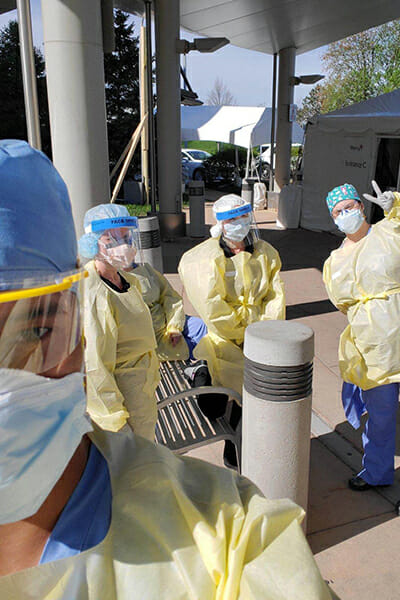 "I always knew I wanted to be in the medical field," she said. "As a teenager, I volunteered as a candy striper and remember how many nurses left significant impressions on patients and their families. I want to make a difference in a sick person's life, just as they did."
Though the coronavirus pandemic has caused an unprecedented challenge for health care systems worldwide, Adegboye acknowledges that the pandemic also has provided the opportunity for health care workers, like her, to learn and grow.
"I would never have had the opportunity to work so closely with patients if it weren't for the coronavirus," she said. "My end goal was always: how could I make a better
experience for the patient? I know how I would have felt if I was sick with the virus, and it gave me satisfaction to be there for someone when they needed it the most."